CT8 3+1 Axis Hydraulic Press Brake Machine
Name : CT8 3+1 Axis Hydraulic Press Brake Machine </br> Brand :Rbqlty</br> Category :Hydraulic PRESS BRAKE MACHINE</br> Model Type :WC67K</br> Price: CONSULT
Hydraulic Press Brake Machine
Laser cutting machine | Bending machine
Product Description
Components
Technical Parameters
Commodity name:

CT8 3+1 Axis Hydraulic Press Brake Machine

Commodity ID:

1056960223454781440

Name : CT8 3+1 Axis Hydraulic Press Brake Machine </br> Brand :Rbqlty</br> Category :Hydraulic PRESS BRAKE MACHINE</br> Model Type :WC67K</br> Price: CONSULT

3+1 Axis Hydraulic Press Brake Machine

Back Gauge Safety Fence

Standard
1.6.4" color LCD display. (TFT)
2.266 MHz processor, memory capacity 64MB.
3.Tooling database: punches for 30 sets, dies for 30 sets.
4.Standard Windows functions. User specific applications support.
5.USB keyboard, mouse and flash memory drive.
6.Precision ball screw lead, linear slide way and AC servo motor for X axis.
7.Bearing-type guideway system.
8.German HOERBIGER hydraulic circuit. (for 4 axes and above)
9.Equipped with European optical scales. (for 4 axes and above)
Main Functions
1.Alphanumeric product naming.
2.Millimetres/Inches, KN/Ton and languages selection.
3.Number of steps up to 25. Step repeat up to 99 (maximum).
4.Programmable tooling, products and material properties.
5.Computed functions include tooling safety zones, press force, crowning adjustment, speed-change point and etc. (Differ from various axes.)
6.Store tooling & workpiece data via USB interface.
7.There are two modes: angle-input mode, depthinput mode.
8.Diagnostic program.
9.Both sides angles can be adjusted independently. (for 4 axes and above)

CybTouch 8 PS

Easy Operating
• Large, vivid and high-contrast fully touchscreen.
• Simple pages, clear display, large keys.
• Intuitive user-friendly interface.
• Complete programming for efficient mass-production
with multiple bends.
• Easy single bends thanks to the EasyBend page.
• On-line help and interactive warning pop-ups.
• Comfortable wireless data backup and software
updating using PC or Notebook.
• USB memory stick port for data transfer/backup.
• Large variety of languages available.

Better Bending
• Various automatic calculations of bend functions.
• Bending sequences and programs can be memorized.
• Angle, pressure and crowning management.
• Easy manual movement.

Key words:

Hydraulic Press Brake Machine

Main Motor Hydraulic Oil Pump & Valves

Standard Mold Multi-V Die Hydraulic Proportional Valves

Quick clamp Electric Components
3+1 Axis Hydraulic Press Brake Machine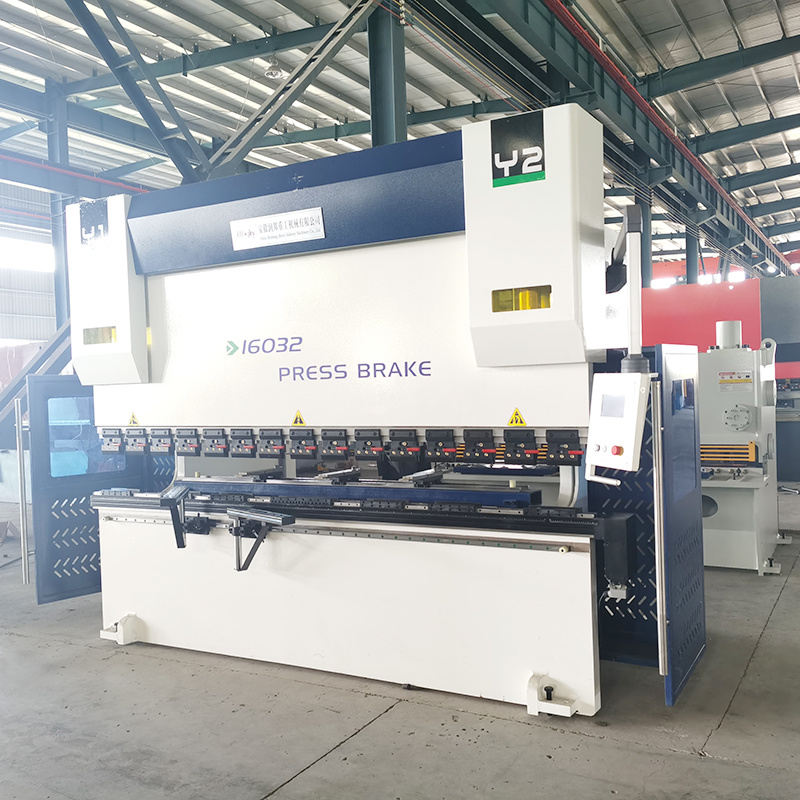 Back Gauge Safety Fence
Standard
1.6.4" color LCD display. (TFT)
2.266 MHz processor, memory capacity 64MB.
3.Tooling database: punches for 30 sets, dies for 30 sets.
4.Standard Windows functions. User specific applications support.
5.USB keyboard, mouse and flash memory drive.
6.Precision ball screw lead, linear slide way and AC servo motor for X axis.
7.Bearing-type guideway system.
8.German HOERBIGER hydraulic circuit. (for 4 axes and above)
9.Equipped with European optical scales. (for 4 axes and above)
Main Functions
1.Alphanumeric product naming.
2.Millimetres/Inches, KN/Ton and languages selection.
3.Number of steps up to 25. Step repeat up to 99 (maximum).
4.Programmable tooling, products and material properties.
5.Computed functions include tooling safety zones, press force, crowning adjustment, speed-change point and etc. (Differ from various axes.)
6.Store tooling & workpiece data via USB interface.
7.There are two modes: angle-input mode, depthinput mode.
8.Diagnostic program.
9.Both sides angles can be adjusted independently. (for 4 axes and above)
CybTouch 8 PS
Easy Operating
• Large, vivid and high-contrast fully touchscreen.
• Simple pages, clear display, large keys.
• Intuitive user-friendly interface.
• Complete programming for efficient mass-production
with multiple bends.
• Easy single bends thanks to the EasyBend page.
• On-line help and interactive warning pop-ups.
• Comfortable wireless data backup and software
updating using PC or Notebook.
• USB memory stick port for data transfer/backup.
• Large variety of languages available.
Better Bending
• Various automatic calculations of bend functions.
• Bending sequences and programs can be memorized.
• Angle, pressure and crowning management.
• Easy manual movement.
Product Consulting
Our staff will contact you within 24 hours (working days). If you need other services, please call the service hotline:
+86-13855367553