Auto Line 4 Ventilation Duct Manufacturing Machine
Name: Auto Line 4 Ventilation Duct Manufacturing Machine</br> Brand :Rbqlty</br> Category :HVAC DUCT MACHINE</br> Model Type :SDL-IV</br> Price: CONSULT
Laser cutting machine | Bending machine
Product Description
Components
Technical Parameters
Commodity name:

Auto Line 4 Ventilation Duct Manufacturing Machine

Commodity ID:

1056962623943041024

Name: Auto Line 4 Ventilation Duct Manufacturing Machine</br> Brand :Rbqlty</br> Category :HVAC DUCT MACHINE</br> Model Type :SDL-IV</br> Price: CONSULT

Duct Manufacture Auto-line 4 is of high performance-cost ratio and suitable to manufacture TDF flange, angle steel flange as well as TDC flange. This equipment adopts international popular welded structure and consists of a material feeding frame, a material transfer frame, a leveling and grooving device, a notching and punching square machine, a double drive single lock machine, a hydraulic folder, a hydraulic shearer and a computer-based control system. The material feeding frame features synchronization and internal bracing model. It can process coils width ranging from 480mm to 610mm. The CNC system with a closed-loop and servo-system guarantees processing precision and the Chinese and English can be easily converted.

The max feeding speed of this line is 15m/min. The length tolerance is ±0.5mm and diagonal tolerance is ±0.8mm.

This line can simultaneously cut metals for ducts of different sizes.

Function:

It is mainly for uncoiling,leveling,beading,punching,locking ,bilaterally angle steel or

TDF flange forming.Because of its small space requirement and easy to install and operate ,people also call call it "small line 5".

Performance Features:

1.All the rolling reel and made of bearing steel so that the lifetime prolongs by more than 5 times

2.Under the material saving mode of CNC system, machine can withdraw material automatically after finishing tasks

3. With production memory functions, the production order can be tracked and checked.

Model
SDL-IV
1. Electric feeding racks 2 sets 4 coil cradles
2. Leveling ,beading,notching, cutting equipment 1 set
3. High speed lock former device
4. Transferring platform
5. A duplex TDF flange forming machine (Optional a duplex angle steel flange forming machine)
6. A CNC controller, software
Plate Thickness Range (mm)
0.5-1.2
Max-width(standard) (mm)
1250
1500
Max-working Speed (m/min)
15
Coiler Max-weight (kg)
7000
Dimension
18800
18800
3500
4000
1500
1500
Main Power (kw)
26
Weight (kg)
9000
10000
Duct Manufacture Auto-line 4 is of high performance-cost ratio and suitable to manufacture TDF flange, angle steel flange as well as TDC flange. This equipment adopts international popular welded structure and consists of a material feeding frame, a material transfer frame, a leveling and grooving device, a notching and punching square machine, a double drive single lock machine, a hydraulic folder, a hydraulic shearer and a computer-based control system. The material feeding frame features synchronization and internal bracing model. It can process coils width ranging from 480mm to 610mm. The CNC system with a closed-loop and servo-system guarantees processing precision and the Chinese and English can be easily converted.
The max feeding speed of this line is 15m/min. The length tolerance is ±0.5mm and diagonal tolerance is ±0.8mm.
This line can simultaneously cut metals for ducts of different sizes.
Function:
It is mainly for uncoiling,leveling,beading,punching,locking ,bilaterally angle steel or
TDF flange forming.Because of its small space requirement and easy to install and operate ,people also call call it "small line 5".
Performance Features:
1.All the rolling reel and made of bearing steel so that the lifetime prolongs by more than 5 times
2.Under the material saving mode of CNC system, machine can withdraw material automatically after finishing tasks
3. With production memory functions, the production order can be tracked and checked.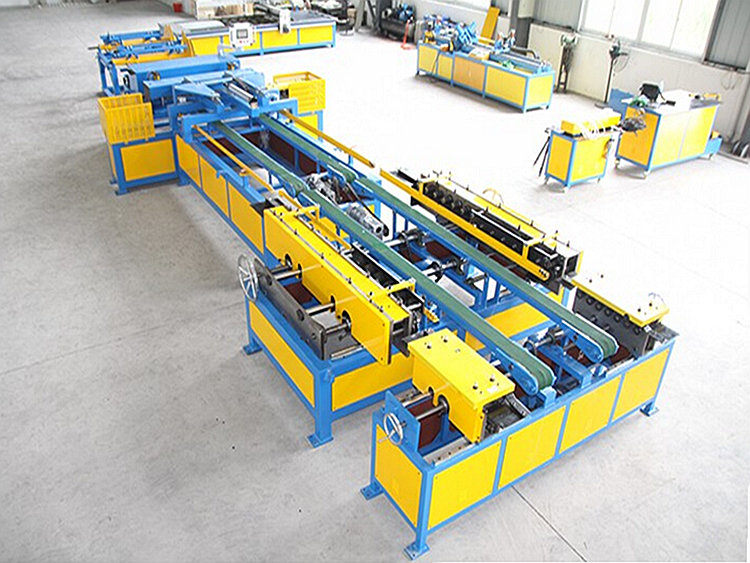 Product Consulting
Our staff will contact you within 24 hours (working days). If you need other services, please call the service hotline:
+86-13855367553