Eight-column Metal Door Sheet Embossing Hydraulic Pressing Machine
Name :Eight-column Metal Door Sheet Embossing Hydraulic Pressing Machine</br> Brand :Rbqlty</br> Category :HYDRAULIC PUNCH PRESS MACHINE</br> Model Type :Y32-Y27-Y28</br> Price: CONSULT
Laser cutting machine | Bending machine
Product Description
Components
Technical Parameters
Commodity name:

Eight-column Metal Door Sheet Embossing Hydraulic Pressing Machine

Commodity ID:

5

Name :Eight-column Metal Door Sheet Embossing Hydraulic Pressing Machine</br> Brand :Rbqlty</br> Category :HYDRAULIC PUNCH PRESS MACHINE</br> Model Type :Y32-Y27-Y28</br> Price: CONSULT

Documents and attachments
1. Instruction manual (including hydraulic, electrical schematic diagram, wiring diagram, structural diagram of main components of the press, foundation drawing and other figures) 1 set / set

2. Packing list and certificate of conformity 1 set/ set

Machine Images

Equipment Features

This press machine is a four column structure, suitable for pressing and forming plastic materials, such as stamping, bending, sheet drawing, flanging, etc. It can also complete various production processes, such as correction, pressing, powder product pressing and forming, etc.

Performance advantages:

★ 1/ Low power consumption,high sealing,reduce the production cost.

★ 2/The structure is simple,the operation is simple.

★3/Full-scale security protection and noise reduction processing,provides the high quality production environment.

Safety and interlocking measures

1/. The control cabinet is equipped with "emergency stop" and "emergency return" buttons. In case of any abnormality, pressing any button can make the emergency stop of the press at the original position or return to the starting position.

2/. Two hand button operation. When moving the semi-automatic operation on the console, you must press the "work" button with both hands at the same time to start work.

3/. All limit stroke positions of slide block are equipped with stroke limit protection switch.

4/. The lower cavity of the main oil cylinder driving the slide block is equipped with a double circuit safety valve, which can prevent the lower cavity of the oil cylinder from overpressure and accidental downward movement.

The oil tank of hydraulic press is equipped with liquid level, on-off signal display of solenoid valve, etc.

| | | |
| --- | --- | --- |
| Name | Set | Re |
| Oil cylinder | 1 | Forging cylinder |
| Integrated cartridge valve | 1 | Jining Taifeng |
| Stroke Switch,Main Switch, AC Contactor, Control Transformer , Auto air circuit breaker, Thermal relay,Time relay | 1 | Schneider |
| Oil Pump | 1 | Qidong nantong |
| Motor | 1 | Huanqiu |
| Seal ring,oil seal | 1 | Taiwan top level |
| Pressure Gauge | 1 | Hangzhou |
| Main electrical components | 1 | Schneider |
| Filling valve | 1 | Nantong |
| A set of common O-ring for pipeline and hydraulic valve (Vulnerable sealing spare parts) | 1 | Free charges,as a gift |

No

Item

Unit

Y32-2500T

Y32-3000T

Y32-3600T

1

PN Mpa

KN

25000

30000

36000

2

Liquid working pressure

Mpa

25

25

25

3

Max opening height

mm

500

500

500

4

Slide stroke

mm

400

400

400

5

Mold floating cylinder force

KN

100

100

100

6

Mold installation floating instructions

This type of machine, mold installation is relatively troublesome, according to the product, according to the customer's site conditions, there is a floating upper mold tooling; when the mold needs to be installed, the floating roller is higher than the work surface, using the mold to slide, floating when not needed The roller is lower than the work surface

7

Slider down speed

Fast drop

mm/s

45

45

45

Work

mm/s

5-10

5-10

5-10

Return stroke

mm/s

45

40

60

8

Work surface effective size

left and right

mm

1500

1500

1800

Front&back

mm

2500

2500

2700

9

Work surface height from the ground

mm

700

700

700

10

Power

Kw

18.5*2

44

30*2

11

Temperature Working environment

℃

0℃~45℃

0℃~45℃

0℃~45℃

12

Power Source

380 V 3Phase

380 V 3Phase

380 V 3Phase

13

Voltage fluctuation range

380V ± 10%

380V ± 10%

380V ± 10%

14

Relative humidity(work environment)

< 90%

< 90%

< 90%

15

Height of worktop from the ground

mm

700

700

700
Documents and attachments
1. Instruction manual (including hydraulic, electrical schematic diagram, wiring diagram, structural diagram of main components of the press, foundation drawing and other figures) 1 set / set
2. Packing list and certificate of conformity 1 set/ set
Machine Images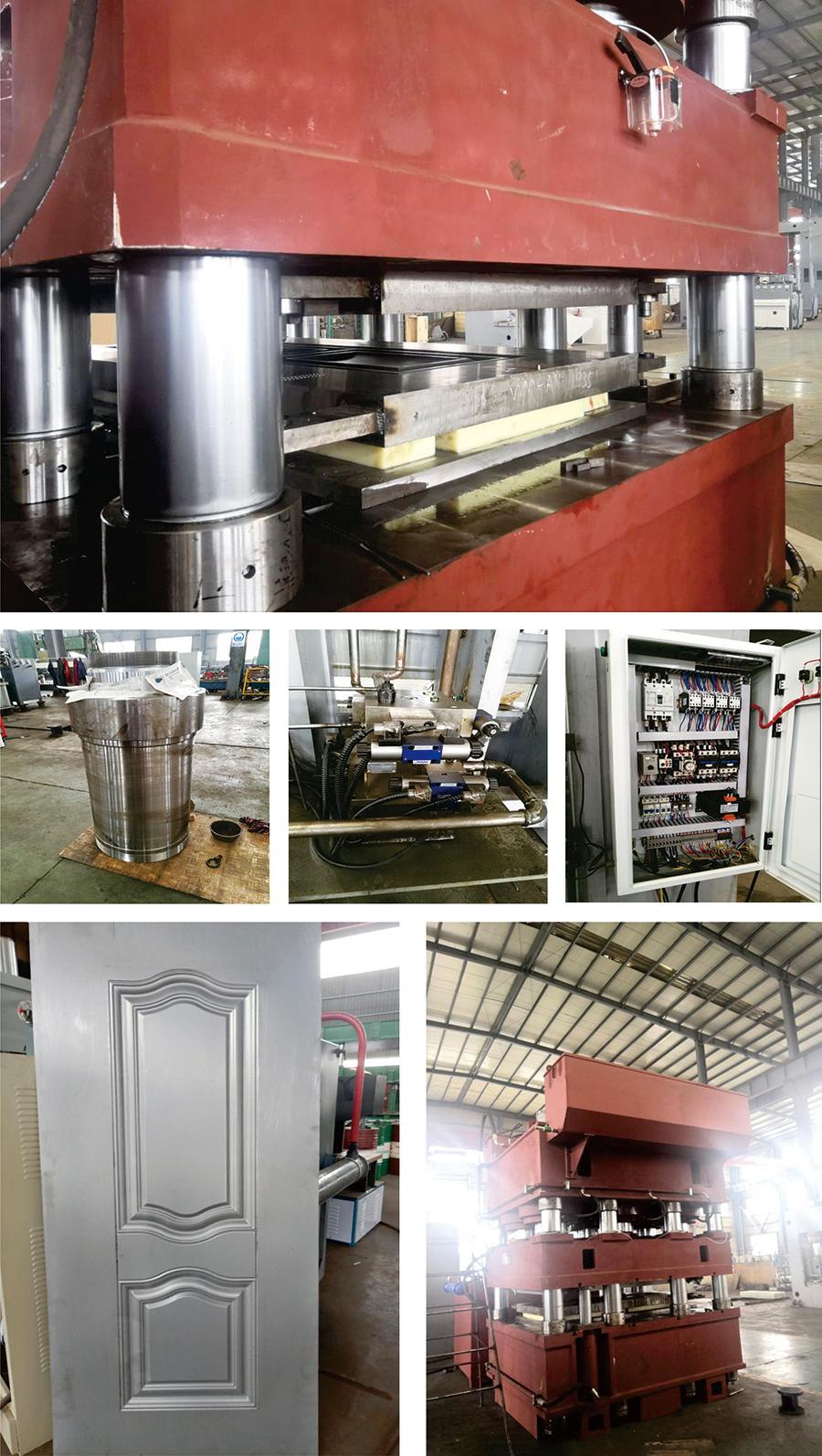 Equipment Features
This press machine is a four column structure, suitable for pressing and forming plastic materials, such as stamping, bending, sheet drawing, flanging, etc. It can also complete various production processes, such as correction, pressing, powder product pressing and forming, etc.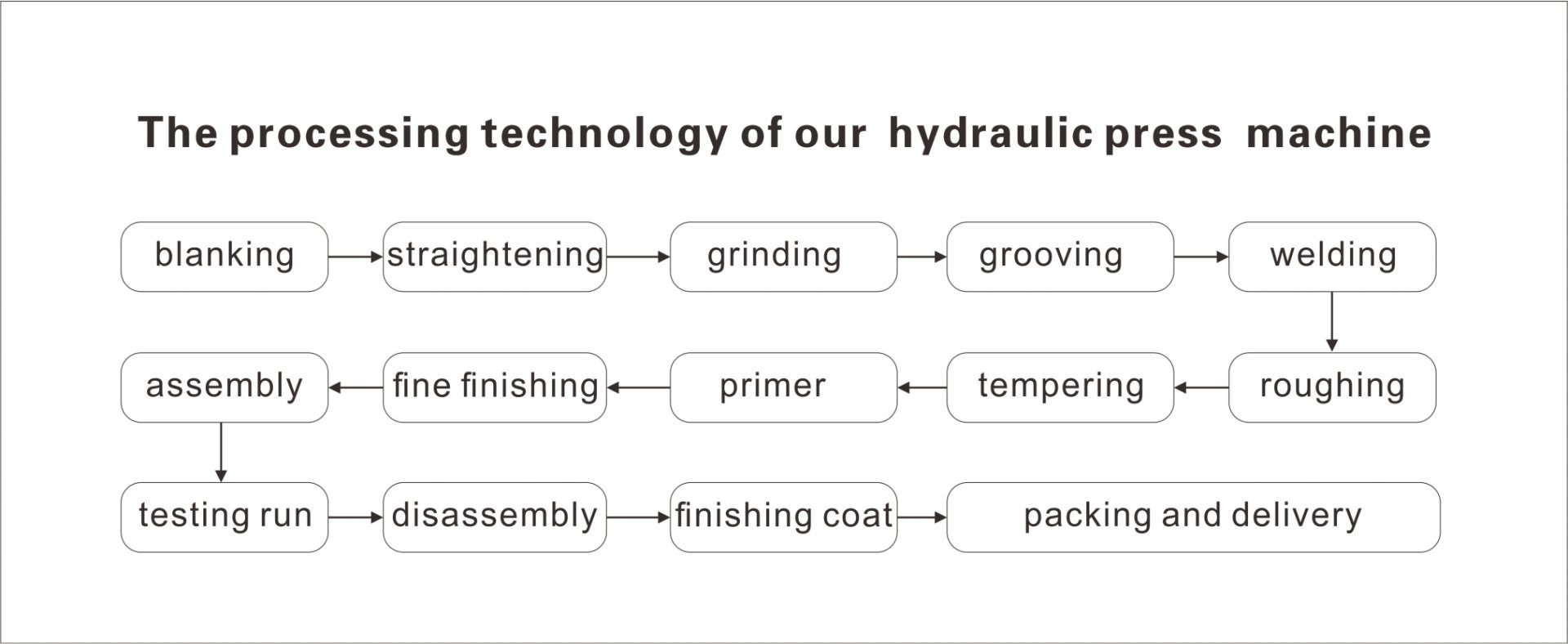 Performance advantages:
★ 1/ Low power consumption,high sealing,reduce the production cost.
★ 2/The structure is simple,the operation is simple.
★3/Full-scale security protection and noise reduction processing,provides the high quality production environment.
Safety and interlocking measures
1/. The control cabinet is equipped with "emergency stop" and "emergency return" buttons. In case of any abnormality, pressing any button can make the emergency stop of the press at the original position or return to the starting position.
2/. Two hand button operation. When moving the semi-automatic operation on the console, you must press the "work" button with both hands at the same time to start work.
3/. All limit stroke positions of slide block are equipped with stroke limit protection switch.
4/. The lower cavity of the main oil cylinder driving the slide block is equipped with a double circuit safety valve, which can prevent the lower cavity of the oil cylinder from overpressure and accidental downward movement.
The oil tank of hydraulic press is equipped with liquid level, on-off signal display of solenoid valve, etc.
Product Consulting
Our staff will contact you within 24 hours (working days). If you need other services, please call the service hotline:
+86-13855367553