Name :Swing beam shears</br> Brand :Rbqlty</br> Item NO :1522640974</br> Category :SHEET METAL SHEAR</br> Model Type :QC12K</br> Price :enquiry
Laser cutting machine | Bending machine
Product Description
Components
Technical Parameters
Commodity name:

Swing Beam Shears

Commodity ID:

1056961029931360256

Name :Swing beam shears</br> Brand :Rbqlty</br> Item NO :1522640974</br> Category :SHEET METAL SHEAR</br> Model Type :QC12K</br> Price :enquiry

QC12K Series Servo CNC Cutting Machine

1.rack,knife,vibration to eliminate stress, welding machine, durable.

2.advanced integrated hydraulic system, good reliiability.

3.three-point support rolling guide to eliminate the bearing clearance, to ensure the quality of shear.

4.electric blade gap adjustment, quick and accurate.

5.on the full used of the blade edge on all sides,the increased use of time.

6.shear angle can be electrically adjusted,reducing the amout of shear deformation plate.

7.after the block, rv reducer electric adjudtment, electronic digital display, accurate ang reliable.

The main features

1.german siemens motor can be optional

2.france schneider electric can be optional

3.usa sunny oil pump is optional

4.material pressure cylinder, to ensure you without oil leak trouble

5.the oil cylinder is with mirror finished, also to reduce oil leak trouble

Detailed Images

Packing process

NO
Accessory
manufacture
Configuration
1
constrol system
SNC-21
Standard
2
Main motor
Ma'anshan Shenghui
3
Hydraulic system
Taifeng-Jining
4
Electrical components
Zhengtai-China brand
5
ball screw
Taiwan Silver
6
Oil pump
Shanghai branch first
7
Digital system
E21s-Estun,DAC360-NatherLANDS
Optional
8
pneumatic
Rbqlty
9
Bosch Valve
Germain
10
Gear pump
Shanghai Hangfa/Americasunny
QC12K Series Servo CNC Cutting Machine
1.rack,knife,vibration to eliminate stress, welding machine, durable.
2.advanced integrated hydraulic system, good reliiability.
3.three-point support rolling guide to eliminate the bearing clearance, to ensure the quality of shear.
4.electric blade gap adjustment, quick and accurate.
5.on the full used of the blade edge on all sides,the increased use of time.
6.shear angle can be electrically adjusted,reducing the amout of shear deformation plate.
7.after the block, rv reducer electric adjudtment, electronic digital display, accurate ang reliable.
The main features
1.german siemens motor can be optional
2.france schneider electric can be optional
3.usa sunny oil pump is optional
4.material pressure cylinder, to ensure you without oil leak trouble
5.the oil cylinder is with mirror finished, also to reduce oil leak trouble
Detailed Images
Packing process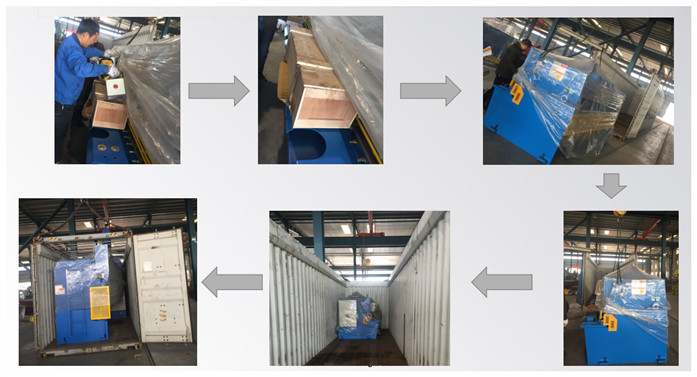 Product Consulting
Our staff will contact you within 24 hours (working days). If you need other services, please call the service hotline:
+86-13855367553