QC11K 12×6500 Hydraulic guillotine shearing machine
Name :QC11K 12×6500 Hydraulic guillotine shearing machine</br> Brand :Rbqlty</br> Item NO :1522475568</br> Category :SHEET METAL SHEAR</br> Model Type :RB11K</br> Price :CONSULT
shearing machine
guillotine shearing machine
QC11K 12×6500
Hydraulic guillotine shearing machine
Laser cutting machine | Bending machine
Product Description
Components
Technical Parameters
Commodity name:

QC11K 12×6500 Hydraulic guillotine shearing machine

Commodity ID:

1056958160704462848

Name :QC11K 12×6500 Hydraulic guillotine shearing machine</br> Brand :Rbqlty</br> Item NO :1522475568</br> Category :SHEET METAL SHEAR</br> Model Type :RB11K</br> Price :CONSULT

QC11K Shearing machine Main Features:

1、Adopting the integral welding frame structure and vibration aging treatment, the machine tool has good rigidity, high precision and good precision retention.
2、Using three points to support the rolling guide, the upper tool holder rolls in the rolling guide between the guide rail and turns the hand wheel to adjust the blade clearance, and the clearance value of the blade is displayed directly on the gap table.
3、The movable blade supports and four-edge long blades are convenient to adjust the uniformity of the blade clearance, improve the sheer quality and prolong the service life of the blade.
4、The series oil cylinder synchronizing system is adopted, the machine has uniform force. By adjusting the series oil cylinder, the shearing angle can be adjusted conveniently to meet the need of different shearing plate thickness.
5、The position of the rear stop is adjusted conveniently by the use of the mobile rear stop device and the E21S numerical control.
6、Hydraulic presser makes shearing more reliable.
7、Spherical ball support material table, convenient for the user to cut and feed.
8、The front stopper with a ruler perpendicular to the lower blade is suitable for the user's front positioning operation.

Key words:

shearing machine
guillotine shearing machine
QC11K 12×6500
Hydraulic guillotine shearing machine

E21S operating system function introduction

E21S control system has a special numerical control device for all kinds of users. The cost of CNC cutting device is greatly reduced on the basis of guaranteed work accuracy.

● Blocking behind press positioning control
●Intelligent positional function
●Unidirectional and bidirectional positioning function,
eliminating the screw clearance effectively
●Return to escape function
●Automatic search reference point feature
●Parameter a key backup and restore function
●Quick location teaching function
●40 multi-step program storage space, each program has 25 steps
●Power failure protection
QC11K Shearing machine Main Features:
1、Adopting the integral welding frame structure and vibration aging treatment, the machine tool has good rigidity, high precision and good precision retention.
2、Using three points to support the rolling guide, the upper tool holder rolls in the rolling guide between the guide rail and turns the hand wheel to adjust the blade clearance, and the clearance value of the blade is displayed directly on the gap table.
3、The movable blade supports and four-edge long blades are convenient to adjust the uniformity of the blade clearance, improve the sheer quality and prolong the service life of the blade.
4、The series oil cylinder synchronizing system is adopted, the machine has uniform force. By adjusting the series oil cylinder, the shearing angle can be adjusted conveniently to meet the need of different shearing plate thickness.
5、The position of the rear stop is adjusted conveniently by the use of the mobile rear stop device and the E21S numerical control.
6、Hydraulic presser makes shearing more reliable.
7、Spherical ball support material table, convenient for the user to cut and feed.
8、The front stopper with a ruler perpendicular to the lower blade is suitable for the user's front positioning operation.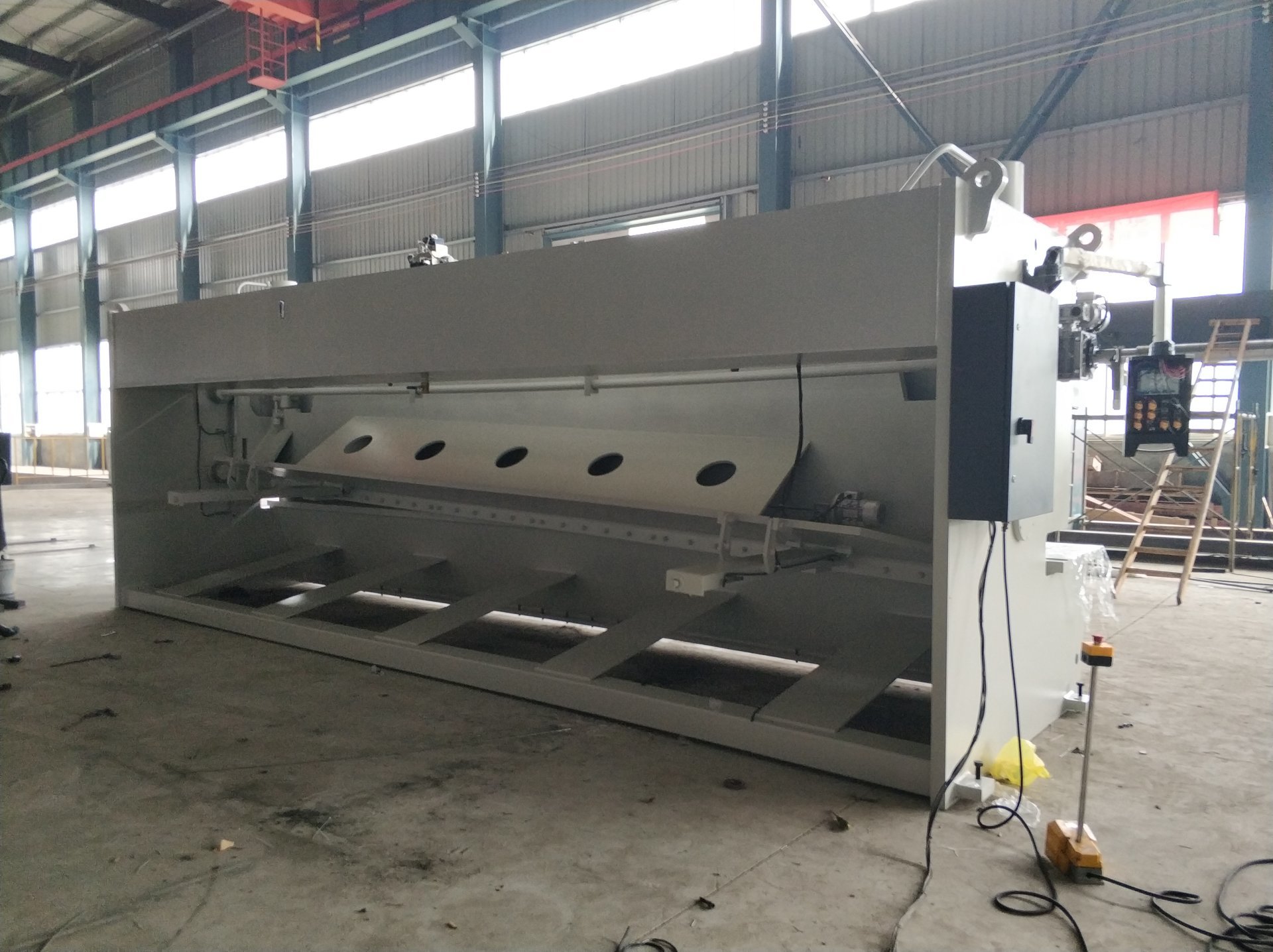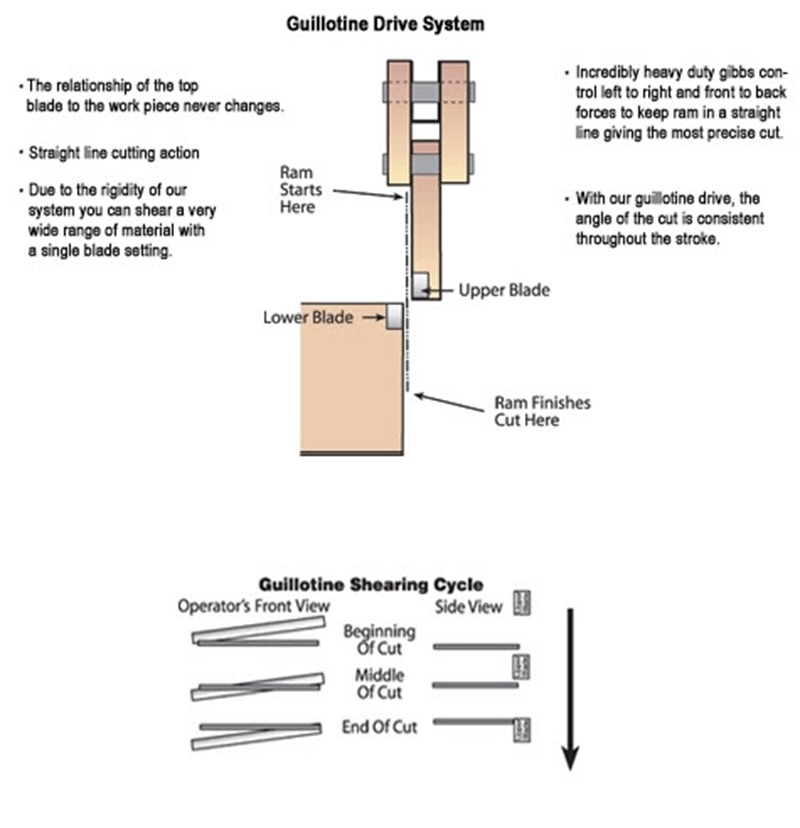 Product Consulting
Our staff will contact you within 24 hours (working days). If you need other services, please call the service hotline:
+86-13855367553