Q35Y-40 Hydraulic Ironworker Machine
Grease seal: Japan NOK</br> Oil cylinder: Anhui Wuyang</br> Hydraulic: German BOSCH</br> Gear Pump: Shanghai HANGFA</br> Motor: German Siemens</br> Electric system: France Schneider</br>
Laser cutting machine | Bending machine
Product Description
Components
Technical Parameters
Commodity name:

Q35Y-40 Hydraulic Ironworker Machine

Commodity ID:

1056961121476239360

Grease seal: Japan NOK</br> Oil cylinder: Anhui Wuyang</br> Hydraulic: German BOSCH</br> Gear Pump: Shanghai HANGFA</br> Motor: German Siemens</br> Electric system: France Schneider</br>

Hydraulic punching and shearing ironworker machine

Applications:

While not meant for accuracy or high production needs, an Ironworker can make quick work of many different types of materials and perform many different processes necessary in a Fab Shop. Materials like: Plate, Tube, Angle and Rod stock can all be processed on an Ironworker. Capable of Punching, Shearing, Bending, Notching and Coping (a type of shearing) an Ironworker is an extremely flexible, versatile and necessary machine in any Fabrication or Weld Shop.

Standard function

1. Robust and accurate steel frame

2. Large punch table with scales

3. Removable bolster for punching flanges and channel and beam

4. 2 independent hydraulic cylinders

5. 2 shielded foot controls

6. 2 Separate Die Openings for over sized punching

7. 5 working stations for wide applications

8. power inching on all 5 work stations

9. plate shear support table and notching table

10. adjustable stroke controls with indicators on both cylinders

11. punching machine: Movable work light

Optional function

1. optional overload protection on hydraulic system

2. optional electric back gauge

3. optional bending attachment

4. optional two cylinder works simultaneously

Punching Station

The design of the bolster plate, makes it possible to perform a wide range of punching. This includes the punching of flat bar, flange, angle, and channel. The station comes standard with quick change punch and die holders, as well as a swing away stripper. Also included are x & y coordinate gauge stops. This feature is useful for repetitive work.

Section Cutting

This station comes standard with blades for cutting solid round and square stock. Alternatively, it can be equipped with easily removable blades for cutting tees, channel, and I-beam profiles. There is also an adjustable hold down for clamping the profile during the cutting process.

Angle Cutting

Blades are four sided and easily installed and rotated. The cavity is designed in such a way to allow mitering at 45° angle. An easy adjustable hold down provides for proper clamping of the material while it is being sheared.

Notching

This station comes standard with rectangular notching blades which allow side notching, therefore allowing notching of unlimited widths. Vee notching blades can easily be installed, and are available as an option.

Machine components

Grease seal: Japan NOK

Oil cylinder: Anhui Wuyang

Hydraulic: German BOSCH

Gear Pump--Shanghai HANGFA

Motor: German Siemens

Electric system: France Schneider;

List of the standard tooling

1. 1 set of punching tooling (single hole punching)

2. 1 set of round bar square bar

3. 1 set of plate cutting

4. 1 set of angle steel cutting

5. 1 set of notching, corner cutting

SPEC

Capacity
Hydraulic punching and shearing ironworker machine
Applications:
While not meant for accuracy or high production needs, an Ironworker can make quick work of many different types of materials and perform many different processes necessary in a Fab Shop. Materials like: Plate, Tube, Angle and Rod stock can all be processed on an Ironworker. Capable of Punching, Shearing, Bending, Notching and Coping (a type of shearing) an Ironworker is an extremely flexible, versatile and necessary machine in any Fabrication or Weld Shop.
Standard function
1. Robust and accurate steel frame
2. Large punch table with scales
3. Removable bolster for punching flanges and channel and beam
4. 2 independent hydraulic cylinders
5. 2 shielded foot controls
6. 2 Separate Die Openings for over sized punching
7. 5 working stations for wide applications
8. power inching on all 5 work stations
9. plate shear support table and notching table
10. adjustable stroke controls with indicators on both cylinders
11. punching machine: Movable work light
Optional function
1. optional overload protection on hydraulic system
2. optional electric back gauge
3. optional bending attachment
4. optional two cylinder works simultaneously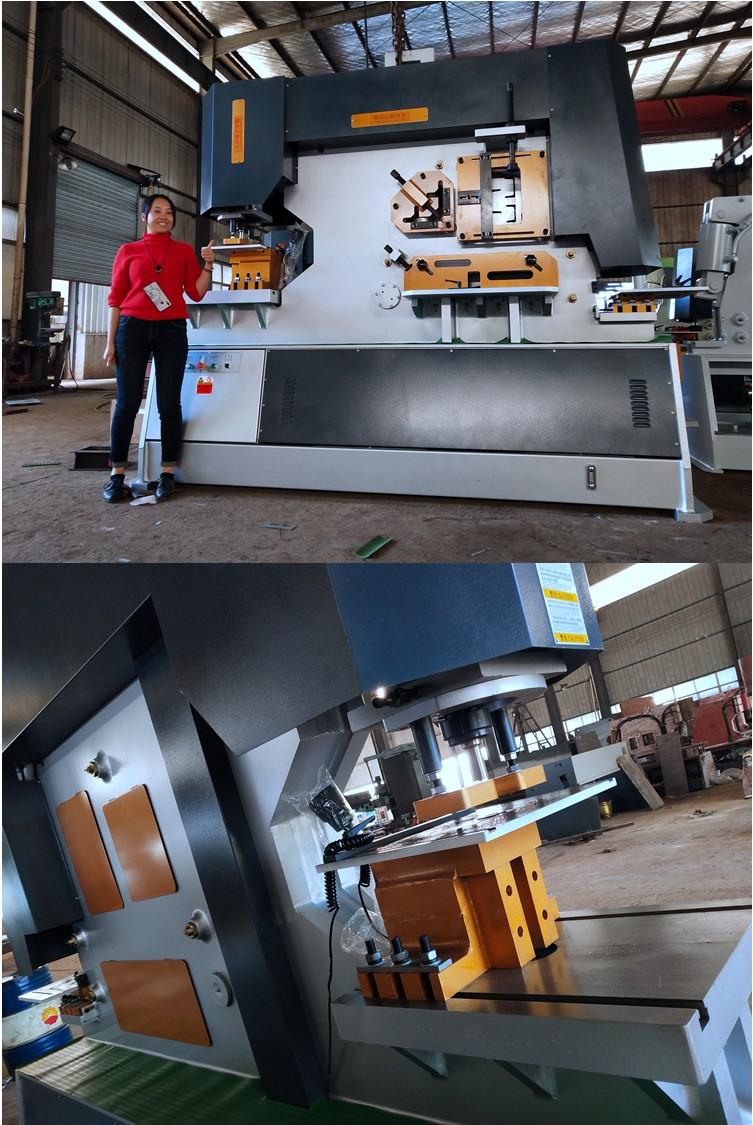 Punching Station
The design of the bolster plate, makes it possible to perform a wide range of punching. This includes the punching of flat bar, flange, angle, and channel. The station comes standard with quick change punch and die holders, as well as a swing away stripper. Also included are x & y coordinate gauge stops. This feature is useful for repetitive work.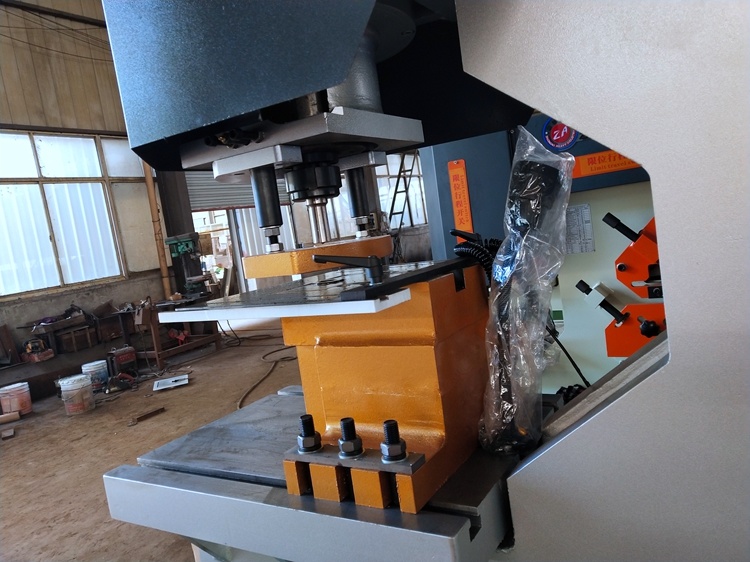 Section Cutting
This station comes standard with blades for cutting solid round and square stock. Alternatively, it can be equipped with easily removable blades for cutting tees, channel, and I-beam profiles. There is also an adjustable hold down for clamping the profile during the cutting process.
Angle Cutting
Blades are four sided and easily installed and rotated. The cavity is designed in such a way to allow mitering at 45° angle. An easy adjustable hold down provides for proper clamping of the material while it is being sheared.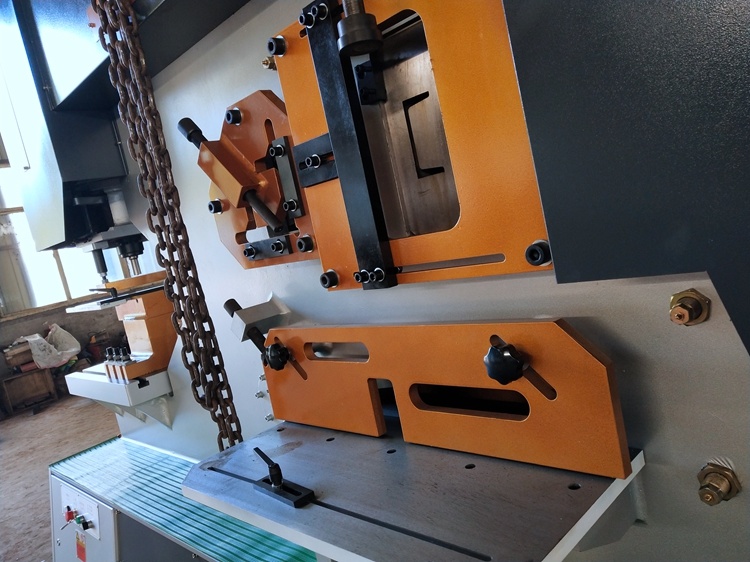 Notching
This station comes standard with rectangular notching blades which allow side notching, therefore allowing notching of unlimited widths. Vee notching blades can easily be installed, and are available as an option.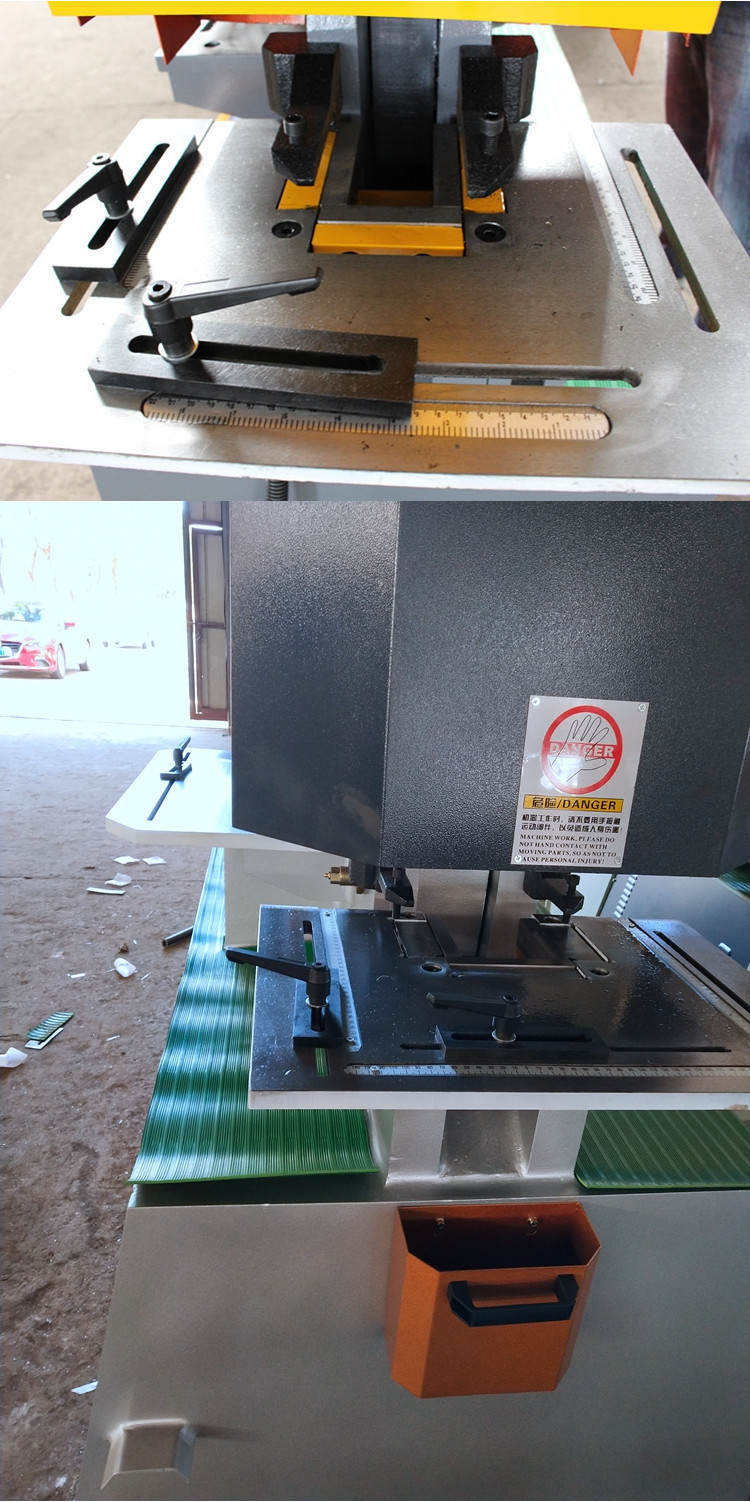 Product Consulting
Our staff will contact you within 24 hours (working days). If you need other services, please call the service hotline:
+86-13855367553