Mechanical 3 Rolls Plate Rolling Machine
Material 45# heat treatment hardness HB220-260, surface medium frequency quenching HRC40 ~ 50
Laser cutting machine | Bending machine
Product Description
Components
Technical Parameters
Commodity name:

Mechanical 3 Rolls Plate Rolling Machine

Commodity ID:

1056962805694816256

Material 45# heat treatment hardness HB220-260, surface medium frequency quenching HRC40 ~ 50

Mechanical 3 rolls plate rolling machine

Whole structure

1.The machine adopts 3-roller symmetrical structure with the upper roller moving vertically in the center between the lower rollers, wihch is achieved through the drive of the screw, the unt, the worm and the lead screw.

2.The two lower rollers rotates, and privideds the plate materials with torque through the engagement of the output gear of the moderator with the gear of the lower rollers.

3.Adapted for bending metal plate into round, arc, and so on. Its working principle is ratary benidng deformation. This product is widely used in chemical industry, cement, shipbuilding, boiller, aviation, water control project, power transmission tower, metal structure and the industry of making machinery.

The Features

1. High Precision end Ore-bending

The straight enge length can be set freely, the upper roller press to pre-bend NC Control, high productivity.Parameters are controlled by NC, easy for operation, improve the productivity greatly

2. Good accuracy

The upper roller is like a drum, the lower rollers assorted with it through support rollers. Bend continuously, can roll ideal products from thin to thick plates widely

3. Safety

The lower rollers are fixed, the upper roller move vertically and horizontally. The job does not work with the working rollers. Complete structure, simple foundation, convenient movement. The machines has unitary basement, does not need earth bolts, has simple foundation

Detailed images

Type
Max thickness of plate
Max width of plate
Diameter of top shaft
Diameter of bottom shaft
Central distance
Min full loading diameter
Motor power
mm
mm
mm
mm
mm
mm
kw
6*1500
6
1500
180
170
210
380
4
6*2000
6
1200
180
170
210
380
5.5
6*2500
6
2500
190
170
260
500
5.5
6*3200
6
3200
240
200
310
500
7.5
8*2000
8
2000
170
150
280
400
5.5
8*2500
8
2000
200
170
350
700
7.5
12*2200
12
2200
200
180
370
700
7.5
12*2500
12
2500
220
180
390
900
11
16*2200
16
2200
240
190
400
800
11
16*2500
16
2500
260
220
410
1000
11
20*2200
20
2200
280
230
420
1000
18
20*2500
20
2500
300
260
440
1100
22
25*2200
25
2200
360
300
480
1200
30
25*2500
25
2500
360
300
480
1200
30
30*2200
30
2200
460
420
600
1200
37
Mechanical 3 rolls plate rolling machine
Whole structure
1.The machine adopts 3-roller symmetrical structure with the upper roller moving vertically in the center between the lower rollers, wihch is achieved through the drive of the screw, the unt, the worm and the lead screw.
2.The two lower rollers rotates, and privideds the plate materials with torque through the engagement of the output gear of the moderator with the gear of the lower rollers.
3.Adapted for bending metal plate into round, arc, and so on. Its working principle is ratary benidng deformation. This product is widely used in chemical industry, cement, shipbuilding, boiller, aviation, water control project, power transmission tower, metal structure and the industry of making machinery.
The Features
1. High Precision end Ore-bending
The straight enge length can be set freely, the upper roller press to pre-bend NC Control, high productivity.Parameters are controlled by NC, easy for operation, improve the productivity greatly
2. Good accuracy
The upper roller is like a drum, the lower rollers assorted with it through support rollers. Bend continuously, can roll ideal products from thin to thick plates widely
3. Safety
The lower rollers are fixed, the upper roller move vertically and horizontally. The job does not work with the working rollers. Complete structure, simple foundation, convenient movement. The machines has unitary basement, does not need earth bolts, has simple foundation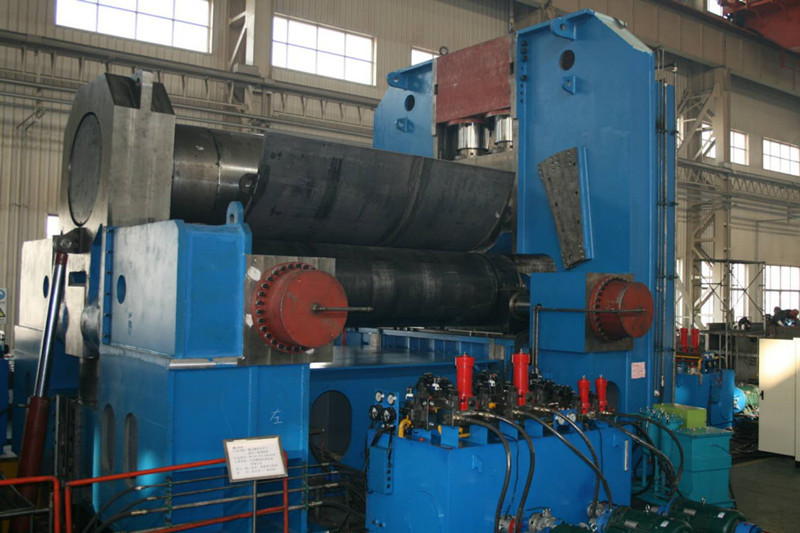 Detailed images
Product Consulting
Our staff will contact you within 24 hours (working days). If you need other services, please call the service hotline:
+86-13855367553