Hydraulic Guillotine Shearing Machine
Name :Hydraulic guillotine shearing machine</br> Brand :Rbqlty</br> Item NO :1522473293</br> Category :SHEET METAL SHEAR</br> Model Type :RB11K</br> Price :CONSULT
Laser cutting machine | Bending machine
Product Description
Components
Technical Parameters
Commodity name:

Hydraulic Guillotine Shearing Machine

Commodity ID:

1056960711369777152

Name :Hydraulic guillotine shearing machine</br> Brand :Rbqlty</br> Item NO :1522473293</br> Category :SHEET METAL SHEAR</br> Model Type :RB11K</br> Price :CONSULT

QC11K Hydraulic guillotine shearing machine

Features:

Steel-welded machine body with vibration stress relief, excellent rigidity and stability.

Advanced hydraulic modular valve block with compact structure and less tube circuit increasing the reliability and maintainability

Linked oil cylinders ensure consistent shearing angle during the shearing processing.

Accumulator keeps return stroke accurately and rapidly; and gap between blades can be adjusted in an accurate, rapid and convenient way by hand wheel.

Shearing angel is adjustable, which decreases the distortion of sheet; convenient and accurate back gauge position electric control and display.

Rolling material support balls decreases scratch of sheet and reduces frictional resistance.

The machine used is called a squaring shear, power shear, or guillotine. The machine may be foot powered, less commonly hand powered, or mechanically or hydraulically powered. It works by first clamping the material with a ram. A moving blade then comes down across a fixed blade to shear the material.

Optional Numeric Control System

Nanjing Estun E21S E200PS

Back gauge controlling; General motors control; Intelligent positioning;;

Two programmable digital output; Work piece counting

40 program memory 25 steps for each program; Unilateral positioning; Concession function

One key to parameter backup and recovery; Metric system; Chinese/English.

DAC310

Holland Delem

1. Servo control technology;

2. Bright LCD display, 128 x 64 pixels;

3. Blades gaps controlling;

4. Cutting length limiting;

5. Back gauge actual and programmed position Displaying.

DAC360

Holland Delem

I .The panel control, high brightness LCD screen;

2. Controlling moving and concession of backgauge;

3. Setting cutting angles and gaps;

4. Managing shearing stroke and pressure;

5. Axis can do manual movement

For larger shears the moving blade may be set on an angle or "rocked" in order to shear the material progressively from one side to the other; this angle is referred to as the shear angle. Setting the blade on an angle decreases the amount of force required, but increases the stroke. A 5 degree shear angle decreases the force by about 20%. The amount of energy used is still the same. The moving blade may also be inclined 0.5 to 2.5°, called the rake angle, to keep the material from becoming wedged between the blades. However, raking the blade compromises the squareness of the edge.

The machine consists of a shear table, work-holding device, upper and lower blades, and a gauging device. The shear table is the part of the machinery that the workpiece rests on while being sheared. The work-holding device is used to hold the workpiece in place and keep it from moving or buckling while under stress. The upper and lower blades are the piece of machinery that actually do the cutting, while the gauging device is used to ensure that the workpiece is being cut where it is supposed to be.

Model

Cutting

Thickness

Cutting

Length

Cutting

Angle

Material

Strength

Stroke

Times

Backgauge

Adjusting

Range

Main

Motor

Power

Weight
Dimension
TYPE
(mm)
(mm)
°
(KN/CM)
time/min
(mm)
(kw)
(kg)
L-W'H(mm)
6 x 2500
6
2500
0.5-1.5
80
10~35
600
7.5
5000
3000*2075*1920
6 x 3200
6
3200
0.5-1.5
80
8~30
600
7.5
6100
3130*2075*1970
6 x 4000
6
4000
0.5-1.5
80
5~20
600
7.5
7200
4530*2075*2000
6 x 5000
6
5000
0.5-1.5
80
4~15
600
11
10500
6430-2075*2520
6 x 6000
6
6000
0.5-1.5
80
3~10
800
15
10700
7530*2075*2210
6 x 8000
6
8000
0.5-1.5
80
2~6
800
22
32000
9530*2075*2600
8 x 2500
8
2500
0.5-1.5
80
8~30
600
7.5
5500
3040*2075" 920
8 x 3200
8
3200
0.5-1.5
80
6~25
600
7.5
6500
3740*2075*1920
12 x 2500
12
2500
0.5-2
80
5~20
600
15
8500
3110*2575*2210
12 x 3200
12
3200
0.5-2
80
4~16
600
15
9800
3810*2575*2500
12 x 4000
12
4000
0.5-2
80
3~12
600
18.5
11500
4610*2575*2500
16 x 2500
16
2500
0.5-2.6
80
6~20
600
18.5
10500
3130*2655*2200
16 x 4000
16
4000
0.5*5.5
80
4~12
600
18.5
15000
4430*2655*2570
20 x 2500
20
2500
0.5-2.6
80
6~15
800
30
13500
3100-2600*2300
20 x 4000
20
4000
0.5-5.5
80
4~12
800
60
19000
4600*2055*2720
25 x 3200
25
3200
0.5-3.5
80
4~10
800
37
20000
3610*2000*3300
QC11K Hydraulic guillotine shearing machine
Features:
Steel-welded machine body with vibration stress relief, excellent rigidity and stability.
Advanced hydraulic modular valve block with compact structure and less tube circuit increasing the reliability and maintainability
Linked oil cylinders ensure consistent shearing angle during the shearing processing.
Accumulator keeps return stroke accurately and rapidly; and gap between blades can be adjusted in an accurate, rapid and convenient way by hand wheel.
Shearing angel is adjustable, which decreases the distortion of sheet; convenient and accurate back gauge position electric control and display.
Rolling material support balls decreases scratch of sheet and reduces frictional resistance.
The machine used is called a squaring shear, power shear, or guillotine. The machine may be foot powered, less commonly hand powered, or mechanically or hydraulically powered. It works by first clamping the material with a ram. A moving blade then comes down across a fixed blade to shear the material.
Optional Numeric Control System
Nanjing Estun E21S E200PS
Back gauge controlling; General motors control; Intelligent positioning;;
Two programmable digital output; Work piece counting
40 program memory 25 steps for each program; Unilateral positioning; Concession function
One key to parameter backup and recovery; Metric system; Chinese/English.
DAC310
Holland Delem
1. Servo control technology;
2. Bright LCD display, 128 x 64 pixels;
3. Blades gaps controlling;
4. Cutting length limiting;
5. Back gauge actual and programmed position Displaying.
DAC360
Holland Delem
I .The panel control, high brightness LCD screen;
2. Controlling moving and concession of backgauge;
3. Setting cutting angles and gaps;
4. Managing shearing stroke and pressure;
5. Axis can do manual movement
For larger shears the moving blade may be set on an angle or "rocked" in order to shear the material progressively from one side to the other; this angle is referred to as the shear angle. Setting the blade on an angle decreases the amount of force required, but increases the stroke. A 5 degree shear angle decreases the force by about 20%. The amount of energy used is still the same. The moving blade may also be inclined 0.5 to 2.5°, called the rake angle, to keep the material from becoming wedged between the blades. However, raking the blade compromises the squareness of the edge.
The machine consists of a shear table, work-holding device, upper and lower blades, and a gauging device. The shear table is the part of the machinery that the workpiece rests on while being sheared. The work-holding device is used to hold the workpiece in place and keep it from moving or buckling while under stress. The upper and lower blades are the piece of machinery that actually do the cutting, while the gauging device is used to ensure that the workpiece is being cut where it is supposed to be.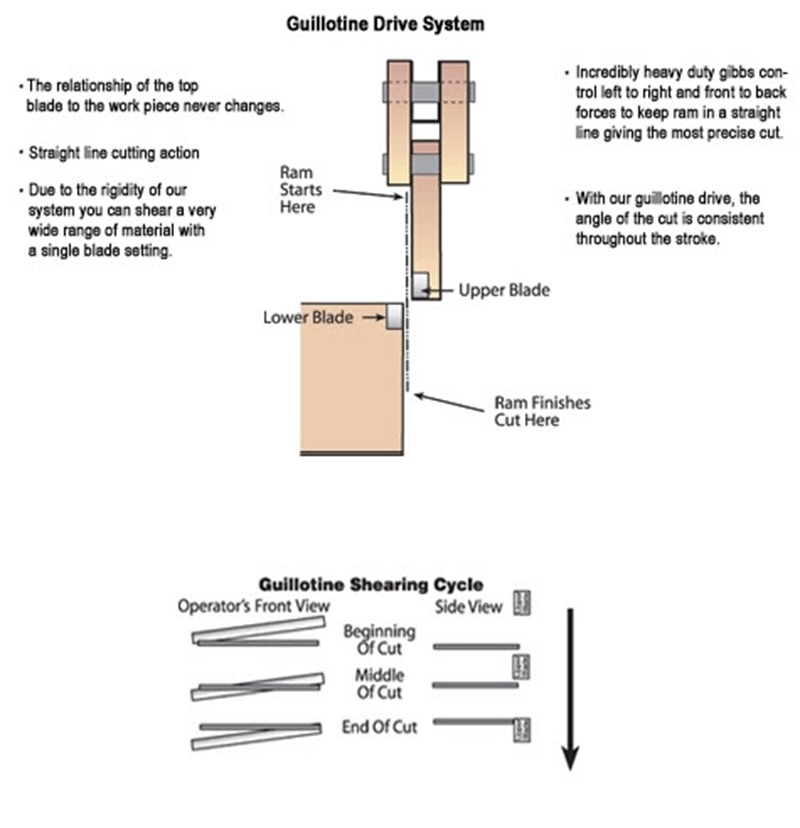 Product Consulting
Our staff will contact you within 24 hours (working days). If you need other services, please call the service hotline:
+86-13855367553