High Mast Tandem Press Brake 500T6500-E21
Name :Light pole high mast tandem hydraulic press brake E21 </br> Brand :Rbqlty</br> Item NO :1531469744</br> Category :PRESS BRAKE MACHINE</br> Model Type :WC67K</br> Price :CONSULT
Laser cutting machine | Bending machine
Product Description
Components
Technical Parameters
Commodity name:

High Mast Tandem Press Brake 500T6500-E21

Commodity ID:

1056959958802587648

Name :Light pole high mast tandem hydraulic press brake E21 </br> Brand :Rbqlty</br> Item NO :1531469744</br> Category :PRESS BRAKE MACHINE</br> Model Type :WC67K</br> Price :CONSULT

WE NEED WORKPIECE SIZE TO QUOTE YOU PRICELarge press brake can bend large product like light poles weight bridges. but large press brake is hard to transport and maintain。and with high expenses

tandem press brakes can handle similar length requirements and will still provide your company with capability you might lose with large press brakes.

Tandem press brakes can:

Run simultaneously, independenty, or as two separate press brakes

Be set up with two different sets of tooling to increase efficiently in multi-stage bending

Bend small pieces of metal alone or large pieces together

Higher precision because of smaller and lighter machine body

Easy installation, easier foundation setting work

Machine Costs

A smaller, standard machine might be cheaper than a larger, custom machine. While this is not always the case, two standard brakes might prove less expensive when evaluating the total cost of ownership. the transportation cost is higher for one large machine than two smaller machines

Speed

Two smaller brakes are faster than one large brake. While bending time might not be the most critical component in the production process (see question No. 4), higher speeds can allow shops to produce more parts.

Risk Aversion

Buying a tandem machine configuration allows you to potentially avoid risks. By essentially having two brakes, your shop still can produce smaller parts on one brake in the unfortunate event that one machine has downtime.

Felexibility

Tandem brakes give you the ability to provide flexibility to your customers by offering a one-stop shop for a variety of parts. For instance, if a job shop has two 500-ton, 20-foot brakes operating in tandem, it not only can produce a part up to 40 ft. long, but also employ both machines independently to double output for parts 20 ft. or less in length.

As business conditions change, job shops need to be agile and often find themselves taking on a wider variety of jobs. Tandem brakes offer the flexibility to keep future business options open.

Additionally, you might be interested in exploring the option to sync a new machine with an existing unit to provide this flexibility.

Light pole and high mast pole

Light pole and high mast pole both are common public facilities. They have different characters.The production equipments are different notonly incapacity.Some equipmenteven is different in principle.For example, cutting and welding machines.

Light pole

Light pole is used along the road/street.The height can be 8, 10, 12, 14m. with the road construction more and more world widely, The pole dimension can be about 60mm at small end and about 200mm~340mm at the big end.This type pole quantity is the biggest required and highly competitive.So increase production speed and reduce production cost is very important. Effective production equipments and process shall be used.The pole can be polygon or conic type ,one seam welding. Plate thickness3~6mm.

Tapper shearing machine

Characters:

1.Mechanic disc blade cutting;

2.Fast speed;

3.Good straightness;

4.No heat stress on the cutting edge;

5.Nice cutting edge, no cut ballast;

6.Both can be used to cut scrap edge;

Some customers want try to use Plasma/flame cutting machine for taper plate cutting.The cutting has following characters. So it is not suitable for light pole taper plate cutting. Normally it is used for bigger thickness (>6m) plate cutting,like base plate.

We have three different size pole weldingmachine,dia up to 340mm,450mm and 500mm.
High mast pole

The pole is used in big public area, likesquare. The pole height can be up to 20or 30 meters and with big dia. The pole iscombined section by section. On the top of pole, there are heavy and powerful lights head.Inside the pole, there is lighthead lifting structure. the pole is costly,but the quantity is not big like light pole.

Flame cutting machine

Flame cutting is mainly used for big thickness plate cutting.Because the plate is thick enough, so the stress on the cutting edge can be better for highmast pole.

High mast pole normally is welded withtwo pieces. The welding machine isdifferent from light pole welding. It is good with automatic high mast pole welding machine. But it's too much biginvestment. So following processing is suggested.

a. Assemble the pole/spot weld the polewith assisting of hydraulic press or somesimple structure.

b. Gantry Type Welding Machine

For big quantity high mast pole/ power transmission pole making,automatic welding machine is better solution.

Features

1、CNC Hydraulic Tandem Hydraulic Brake are controlled by CNC synchronizing system. All machines Y1, Y2 value will transfer from slave CNC to master CNC. Master CNC will calculate and send command to control each unit hydraulic press brake;

2、Normally each unit of tandem Hydraulic press brake has same technical parameters. So that we can synchronize the machines easily. While we also can make different parameters machines to be tandem machine by CNC controller.

3、Each unit of tandem CNC hydraulic press brake is Electric – hydraulic synchronized design; European CNC controller, with full CNC controlled Y1, Y2, calculation based on material and tool library;

4、Automatic bending procedure optimization by CNC controller, engineer can adjust the steps according to actual design;

5、Y1, Y2 is measured with high accurate optic scales. Measured signal will be feedback to CNC controller timely.

6、European proportion valves will control left and right cylinder's movement according to controller's command.

7、For CNC tandem hydraulic press brake, we can apply multi axes back gauge. All the machines can work together to finish all work pieces. Also can separately work as single machine.

8、Ram guide is with low friction Polymer wear-resistant materials, which will give long accurate working life;

9、Working table is with automatic crowning system. Hydraulic type is for up to 200T-3.2m machines, while wedge structure is applied for bigger machines.

10、For bending force up to 200T CNC hydraulic tandem press brake, quick clamp for punch is applied. It will be easy handle the up tooling. The clamp has wedge crowning adjust system.

11、Low noise and high efficient gear pump is standard configuration;

12、Ram is with Anti-tilt device for machine protection;

13、CNC Hydraulic Tandem Press Brake Oil tank is with level and temperature indicator
WE NEED WORKPIECE SIZE TO QUOTE YOU PRICELarge press brake can bend large product like light poles weight bridges. but large press brake is hard to transport and maintain。and with high expenses
tandem press brakes can handle similar length requirements and will still provide your company with capability you might lose with large press brakes.
Tandem press brakes can:
Run simultaneously, independenty, or as two separate press brakes
Be set up with two different sets of tooling to increase efficiently in multi-stage bending
Bend small pieces of metal alone or large pieces together
Higher precision because of smaller and lighter machine body
Easy installation, easier foundation setting work
Machine Costs
A smaller, standard machine might be cheaper than a larger, custom machine. While this is not always the case, two standard brakes might prove less expensive when evaluating the total cost of ownership. the transportation cost is higher for one large machine than two smaller machines
Speed
Two smaller brakes are faster than one large brake. While bending time might not be the most critical component in the production process (see question No. 4), higher speeds can allow shops to produce more parts.
Risk Aversion
Buying a tandem machine configuration allows you to potentially avoid risks. By essentially having two brakes, your shop still can produce smaller parts on one brake in the unfortunate event that one machine has downtime.
Felexibility
Tandem brakes give you the ability to provide flexibility to your customers by offering a one-stop shop for a variety of parts. For instance, if a job shop has two 500-ton, 20-foot brakes operating in tandem, it not only can produce a part up to 40 ft. long, but also employ both machines independently to double output for parts 20 ft. or less in length.
As business conditions change, job shops need to be agile and often find themselves taking on a wider variety of jobs. Tandem brakes offer the flexibility to keep future business options open.
Additionally, you might be interested in exploring the option to sync a new machine with an existing unit to provide this flexibility.

Light pole and high mast pole
Light pole and high mast pole both are common public facilities. They have different characters.The production equipments are different notonly incapacity.Some equipmenteven is different in principle.For example, cutting and welding machines.
Light pole

Light pole is used along the road/street.The height can be 8, 10, 12, 14m. with the road construction more and more world widely, The pole dimension can be about 60mm at small end and about 200mm~340mm at the big end.This type pole quantity is the biggest required and highly competitive.So increase production speed and reduce production cost is very important. Effective production equipments and process shall be used.The pole can be polygon or conic type ,one seam welding. Plate thickness3~6mm.
Tapper shearing machine

Characters:
1.Mechanic disc blade cutting;
2.Fast speed;
3.Good straightness;
4.No heat stress on the cutting edge;
5.Nice cutting edge, no cut ballast;
6.Both can be used to cut scrap edge;
Some customers want try to use Plasma/flame cutting machine for taper plate cutting.The cutting has following characters. So it is not suitable for light pole taper plate cutting. Normally it is used for bigger thickness (>6m) plate cutting,like base plate.

We have three different size pole weldingmachine,dia up to 340mm,450mm and 500mm.
High mast pole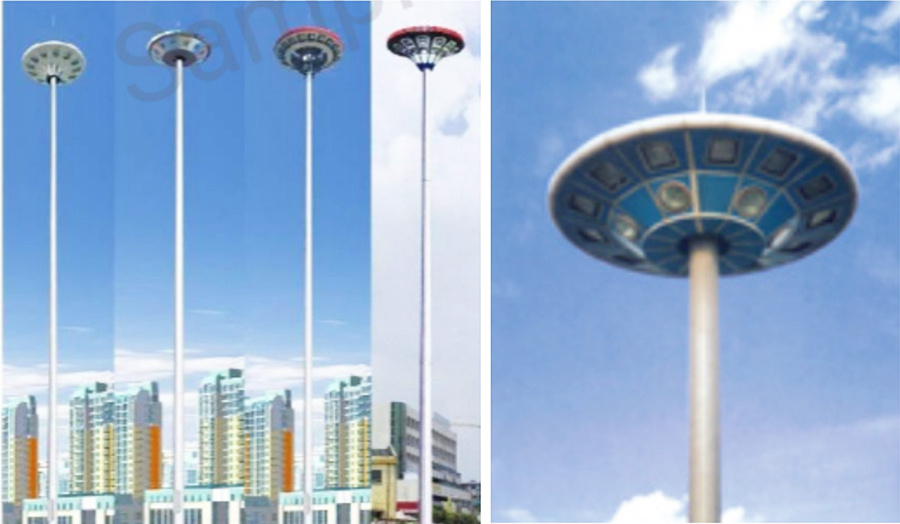 The pole is used in big public area, likesquare. The pole height can be up to 20or 30 meters and with big dia. The pole iscombined section by section. On the top of pole, there are heavy and powerful lights head.Inside the pole, there is lighthead lifting structure. the pole is costly,but the quantity is not big like light pole.
Flame cutting machine

Flame cutting is mainly used for big thickness plate cutting.Because the plate is thick enough, so the stress on the cutting edge can be better for highmast pole.

High mast pole normally is welded withtwo pieces. The welding machine isdifferent from light pole welding. It is good with automatic high mast pole welding machine. But it's too much biginvestment. So following processing is suggested.
a. Assemble the pole/spot weld the polewith assisting of hydraulic press or somesimple structure.
b. Gantry Type Welding Machine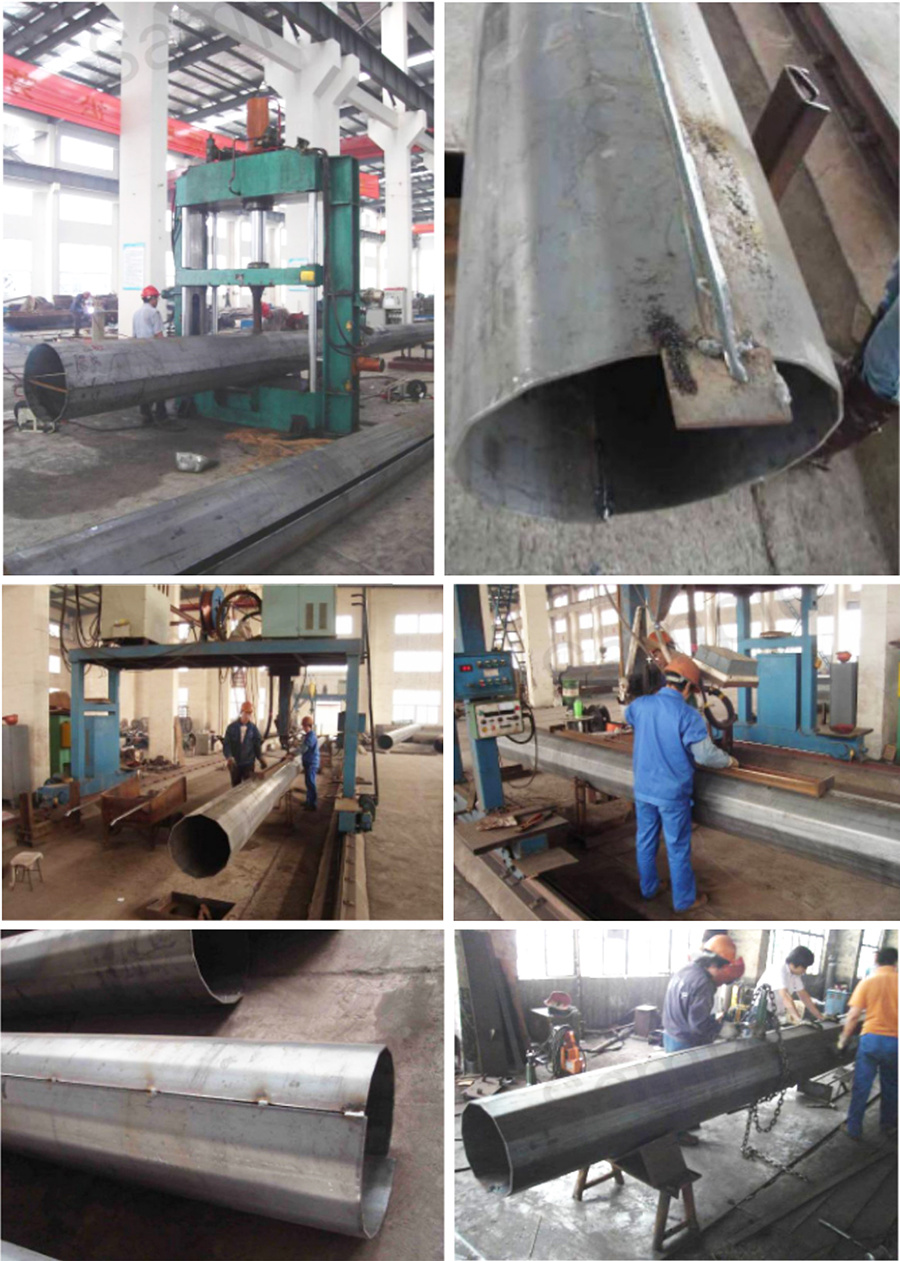 For big quantity high mast pole/ power transmission pole making,automatic welding machine is better solution.

Product Consulting
Our staff will contact you within 24 hours (working days). If you need other services, please call the service hotline:
+86-13855367553