E21 Hydraulic Shearing Machine With Front Feeding Device
Name :E21 Hydraulic Shearing Machine With Front Feeding Device</br> Brand :Rbqlty</br> Category: GUILLOTINE SHEARS MACHINE</br> Price: CONSULT
Shearing Machine
Hydraulic Shearing Machine
hearing Machine With Front Feeding Device
Front Feeding Device
E21 shearing machine
Laser cutting machine | Bending machine
Product Description
Components
Technical Parameters
Commodity name:

E21 Hydraulic Shearing Machine With Front Feeding Device

Commodity ID:

1056958389902204928

Name :E21 Hydraulic Shearing Machine With Front Feeding Device</br> Brand :Rbqlty</br> Category: GUILLOTINE SHEARS MACHINE</br> Price: CONSULT

Guillotine Shearing machine main features:

1.German Siemens Motor can be optional.
2. France Schneider electric can be optional.
3. USA Sunny oil pump is optional.
4.Material pressure cylinder, to ensure you without oil leak trouble.
5. The oil cylinder is with mirror finished, also to reduce oil leak trouble.

▶ CNC controller

▶ Easily adjustable with scale

▶ blade gap setting system for precise cutting

▶ Movable controller arm

▶ Roller bearings on the table to help feeding sheets to the machine easily

▶ Welded monoblock heavy steel frame using rigid structural steel produced with modern manufactured methods

▶ Automatic, CNC controlled motorized back gauge 1000 mm range (stroke) with ball shaft and guide system .

▶ Programmable backgauge, with retract and swing up features for longer sheets

▶ Prevents scratching of the sheet with ball on the table

▶ sheet hold down cylinders to protect sheet parts when cutting process

▶ Cylinders, processed as precise from solid full material and made honed .

▶ Pistons, processed from forged steel, hardened, grinded and chrome-coated.

Key words:

Shearing Machine
Hydraulic Shearing Machine
hearing Machine With Front Feeding Device
Front Feeding Device
E21 shearing machine

DAC360 CNC System

Main Motor

Hold down cylinders

Oil Cooling Fan

Model

Cutting

Thickness

Cutting

Length

Cutting

Angle

Material

Strength

Stroke

Times

Backgauge

Adjusting

Range

Main

Motor

Power

Weight
Dimension
TYPE
(mm)
(mm)
°
(KN/CM)
time/min
(mm)
(kw)
(kg)
L-W'H(mm)
6 x 2500
6
2500
0.5-1.5
80
10~35
600
7.5
5000
3000*2075*1920
6 x 3200
6
3200
0.5-1.5
80
8~30
600
7.5
6100
3130*2075*1970
6 x 4000
6
4000
0.5-1.5
80
5~20
600
7.5
7200
4530*2075*2000
6 x 5000
6
5000
0.5-1.5
80
4~15
600
11
10500
6430-2075*2520
6 x 6000
6
6000
0.5-1.5
80
3~10
800
15
10700
7530*2075*2210
6 x 8000
6
8000
0.5-1.5
80
2~6
800
22
32000
9530*2075*2600
8 x 2500
8
2500
0.5-1.5
80
8~30
600
7.5
5500
3040*2075" 920
8 x 3200
8
3200
0.5-1.5
80
6~25
600
7.5
6500
3740*2075*1920
12 x 2500
12
2500
0.5-2
80
5~20
600
15
8500
3110*2575*2210
12 x 3200
12
3200
0.5-2
80
4~16
600
15
9800
3810*2575*2500
12 x 4000
12
4000
0.5-2
80
3~12
600
18.5
11500
4610*2575*2500
16 x 2500
16
2500
0.5-2.6
80
6~20
600
18.5
10500
3130*2655*2200
16 x 4000
16
4000
0.5*5.5
80
4~12
600
18.5
15000
4430*2655*2570
20 x 2500
20
2500
0.5-2.6
80
6~15
800
30
13500
3100-2600*2300
20 x 4000
20
4000
0.5-5.5
80
4~12
800
60
19000
4600*2055*2720
25 x 3200
25
3200
0.5-3.5
80
4~10
800
37
20000
3610*2000*3300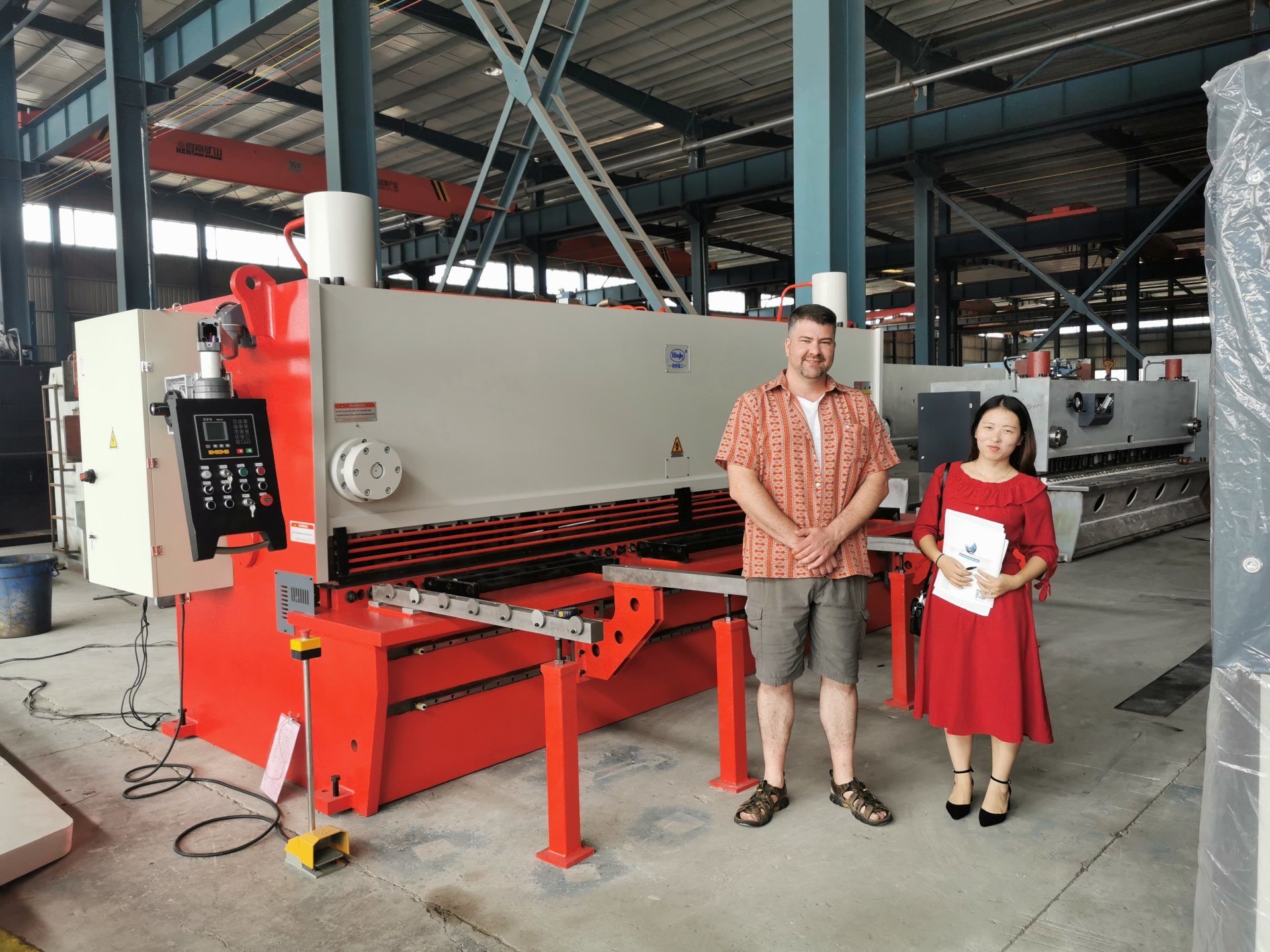 Guillotine Shearing machine main features:
1.German Siemens Motor can be optional.
2. France Schneider electric can be optional.
3. USA Sunny oil pump is optional.
4.Material pressure cylinder, to ensure you without oil leak trouble.
5. The oil cylinder is with mirror finished, also to reduce oil leak trouble.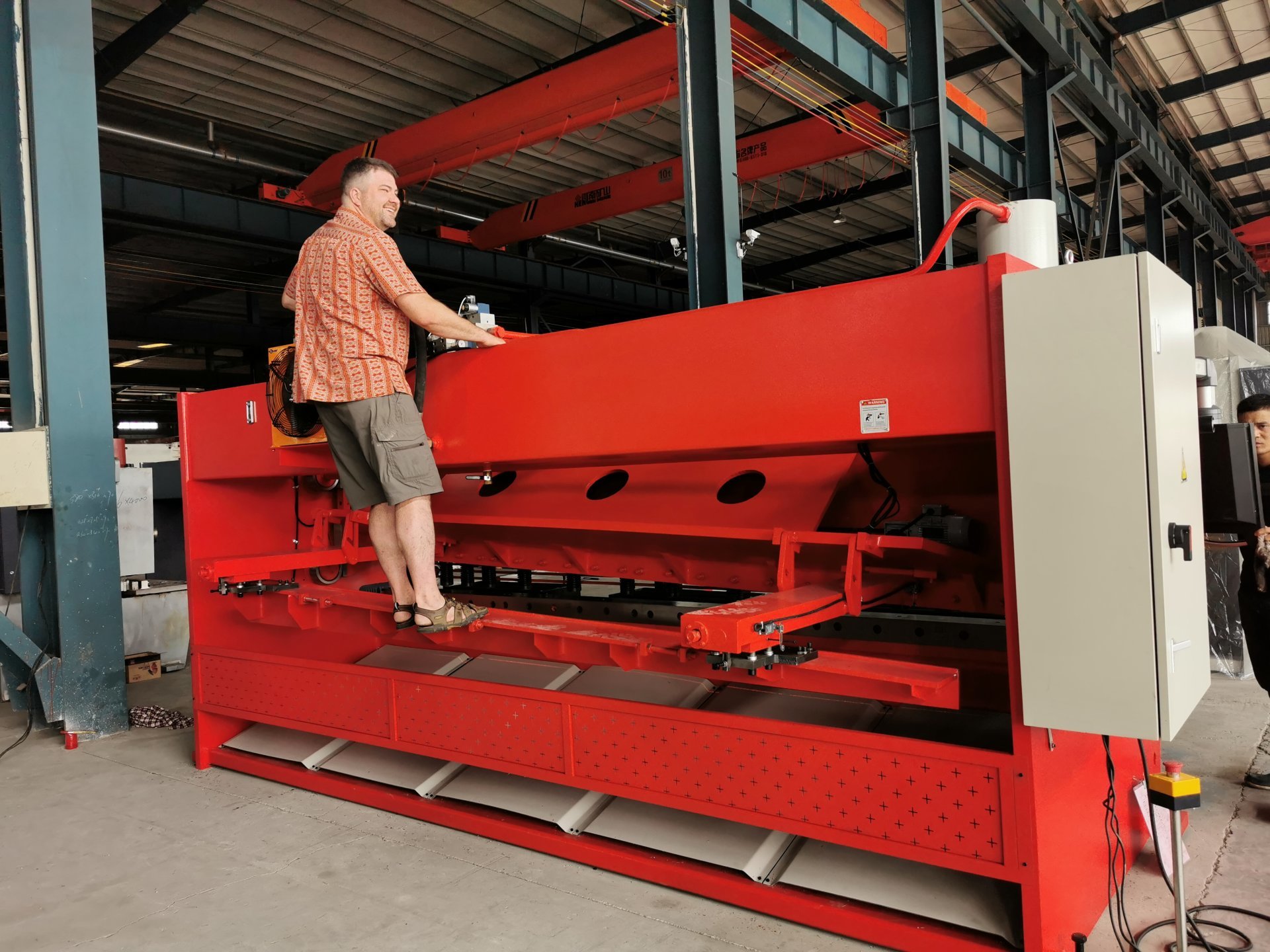 ▶ CNC controller
▶ Easily adjustable with scale
▶ blade gap setting system for precise cutting
▶ Movable controller arm
▶ Roller bearings on the table to help feeding sheets to the machine easily
▶ Welded monoblock heavy steel frame using rigid structural steel produced with modern manufactured methods
▶ Automatic, CNC controlled motorized back gauge 1000 mm range (stroke) with ball shaft and guide system .
▶ Programmable backgauge, with retract and swing up features for longer sheets
▶ Prevents scratching of the sheet with ball on the table
▶ sheet hold down cylinders to protect sheet parts when cutting process
▶ Cylinders, processed as precise from solid full material and made honed .
▶ Pistons, processed from forged steel, hardened, grinded and chrome-coated.
Product Consulting
Our staff will contact you within 24 hours (working days). If you need other services, please call the service hotline:
+86-13855367553