CNC Gantry Plasma Gas Cutting Machine
Name :CNC gantry plasma gas cutting machine</br> Brand :Rbqlty</br> Item NO :1522829304</br> Category :METAL CUTTING MACHINE</br> Model Type :RB3060</br> Price :enquiry online
Laser cutting machine | Bending machine
Product Description
Components
Technical Parameters
Commodity name:

CNC Gantry Plasma Gas Cutting Machine

Commodity ID:

1056961737560776704

Name :CNC gantry plasma gas cutting machine</br> Brand :Rbqlty</br> Item NO :1522829304</br> Category :METAL CUTTING MACHINE</br> Model Type :RB3060</br> Price :enquiry online

Features

1.This cutting machine is widely used in cutting sheet metal to various size and shape.

2.This cutting machine adopts gantry type structure,double driving and linear guide,plasma cutting

3.Torch number is set according to customer' request. Cutting plate is normally 1-60mm thick.

Gantry structure double driving increase the work stability and accuracy; double lifting devices makes operation simple and smoother.

4.The whole wedding thick square steel tube with artificial aging processing frame.

Reasonable working table design, covered with finishing cating iron mask to protect the vertical steel plate.

5.Reasonable slope design to ensure the processed workpiece

Adopted with Japanese Panasonic motor servo driver and Taiwan made high-precision servo gear,rack and pinio to ensure low noise, steady and precision performance.

6.Adopted with US made control system with Germany auto-saving material auto-layout software.

Equipped with HYPERMAX powermax series cutter machine and US original torch.

7.Applications:Metal parts cutting, thick abnormal metal plate cutting and welding processing.

All kinds of metal materials such as steel, copper, aluminum and stainless steel can be processed.

2.Detailed images

3.diagrammatic sketch

1)The longitudinal rail of the gantry cutter needs to be mounted on a solid base.The usual bases are like cement bases and I-steel bases shown in Fig. 1-1.The center distance of the foundation is the same as the span of the gantry cutting machine ordered.

Guide rail diagram

2)Not only each column guide rail straightness and levelnesshave to be kept, but also 2 columns of guide rail center distance and mutual level have to be ensured when installation.Center distance of the two columns of longitudinal guide rails are consistent with the transverse span.

The part 6 is welded with the base plate, part 2 sealed with part 6, part 1 is to adjust the high& low and level, part 5 is to adjust the center distance and straightness of gauge.When the adjustment is over,to tighten screw 3 then press gauge tightly trough part 4.

1.Standard:

Plasma:Air/O2/H2/H35/H20/electric

Flame:O2/C2H2/C3H8

2.Optional Power

1.Hypertherm

The maintenance demand is low and the normal running time can be maximized - this system can always keep normal operation.Low operating cost

Long life of easily damaged parts, can reduce the cost and prolong the normal operation time.

Higher power efficiency reduces power consumption.

2.Thermadyne

The water mist cutting technology initiated by Feimartre has made its cutting quality more advanced than in the past , and also has been a piece of sky for it to focus on the fine plasma cutting market .

3.huayuan

Soft switch technology is used to improve the working conditions of IGBT tube and greatly improve the reliability of IGBT.

The current rises slowly, reduces the arcing impact, reduces the cutting gun fitting consumption.

Inverter control power supply, small volume, light weight, high efficiency, low energy consumption, greatly reduce the use cost.

High standard design, high-quality parts, fine production, ensure machine cutting quality.

Gantry type: RB L-3060

| | | | | |
| --- | --- | --- | --- | --- |
| No. | Name | Parameter | Unit | Remark |
| 1 | Cross rail spacing | 3000 | mm | |
| 2 | Effective cutting width | 2200 | mm | Two cutting torches |
| 3 | Vertical guide length | 6000 | mm | |
| 4 | Effective cutting length | 4000 | mm | |
| 5 | Transverse effective cutting | ≤nominal size 20 | mm | |
| 6 | Longitudinal effective cutting | ≤nominal size 20 | mm | |
| 7 | Cutting torch lifting height | ≤200 | mm | |
| 8 | Cutting speed | 50-3500 | mm/min | |
| 9 | Flame cutting torch | 350 | mm | |
| 10 | Plasma cutting torch | 320 | mm | |
| 11 | Weight | 850 | Kg | |
| 12 | Overall dimension | 3400×6000×2500 | mm | |
Features
1.This cutting machine is widely used in cutting sheet metal to various size and shape.
2.This cutting machine adopts gantry type structure,double driving and linear guide,plasma cutting
3.Torch number is set according to customer' request. Cutting plate is normally 1-60mm thick.
Gantry structure double driving increase the work stability and accuracy; double lifting devices makes operation simple and smoother.
4.The whole wedding thick square steel tube with artificial aging processing frame.
Reasonable working table design, covered with finishing cating iron mask to protect the vertical steel plate.
5.Reasonable slope design to ensure the processed workpiece
Adopted with Japanese Panasonic motor servo driver and Taiwan made high-precision servo gear,rack and pinio to ensure low noise, steady and precision performance.
6.Adopted with US made control system with Germany auto-saving material auto-layout software.
Equipped with HYPERMAX powermax series cutter machine and US original torch.
7.Applications:Metal parts cutting, thick abnormal metal plate cutting and welding processing.
All kinds of metal materials such as steel, copper, aluminum and stainless steel can be processed.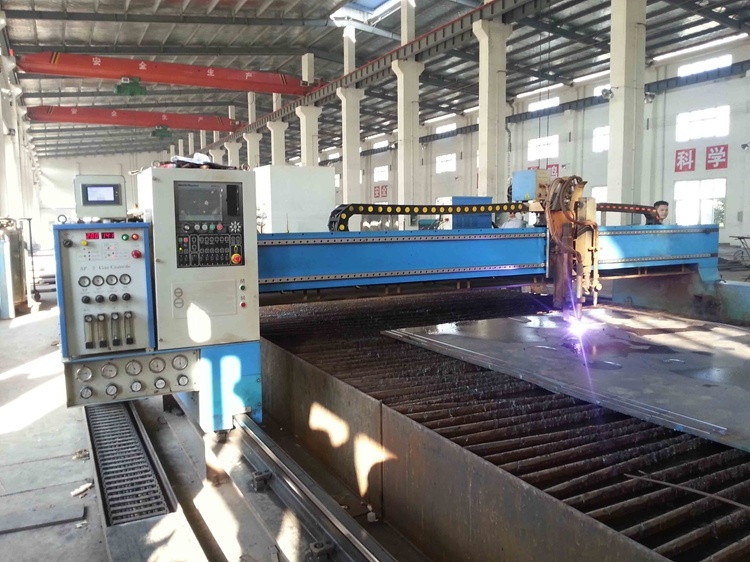 2.Detailed images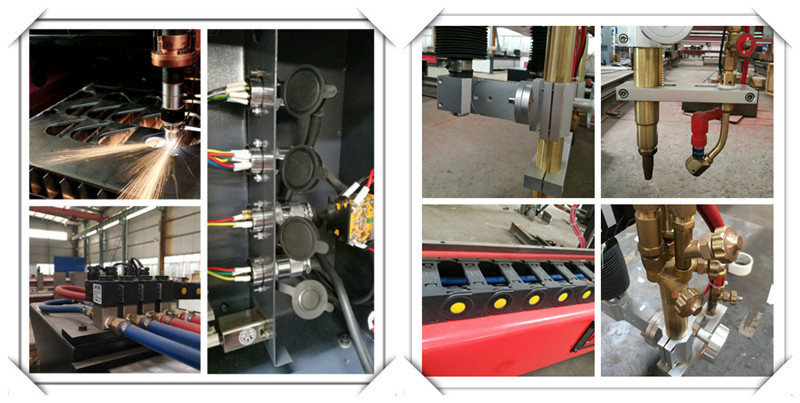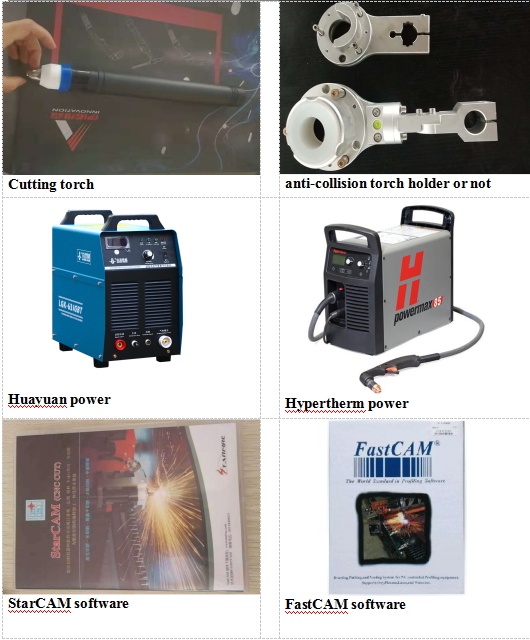 3.diagrammatic sketch
1)The longitudinal rail of the gantry cutter needs to be mounted on a solid base.The usual bases are like cement bases and I-steel bases shown in Fig. 1-1.The center distance of the foundation is the same as the span of the gantry cutting machine ordered.
Guide rail diagram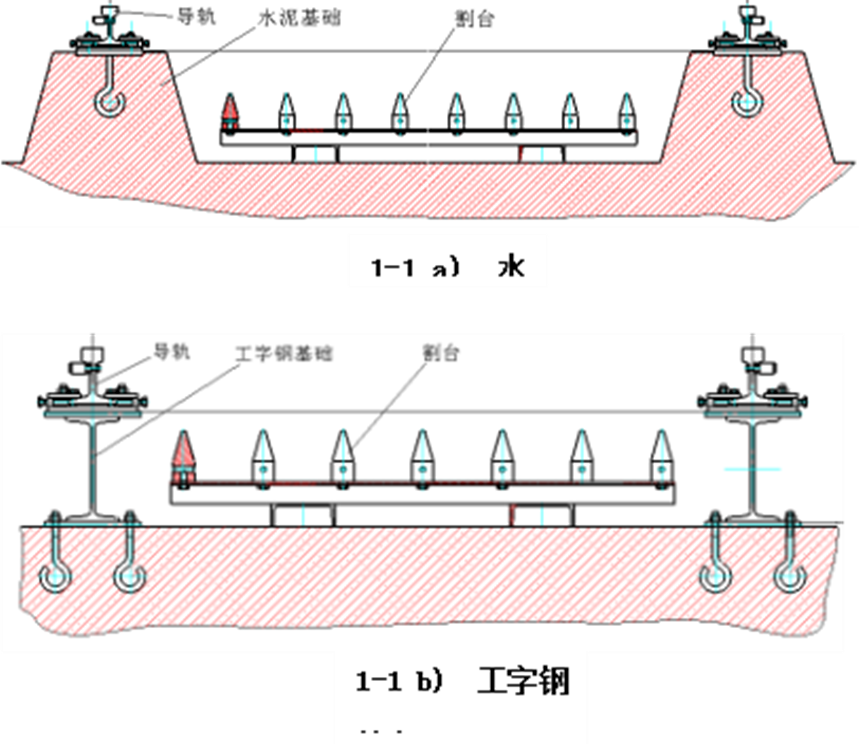 2)Not only each column guide rail straightness and levelnesshave to be kept, but also 2 columns of guide rail center distance and mutual level have to be ensured when installation.Center distance of the two columns of longitudinal guide rails are consistent with the transverse span.
The part 6 is welded with the base plate, part 2 sealed with part 6, part 1 is to adjust the high& low and level, part 5 is to adjust the center distance and straightness of gauge.When the adjustment is over,to tighten screw 3 then press gauge tightly trough part 4.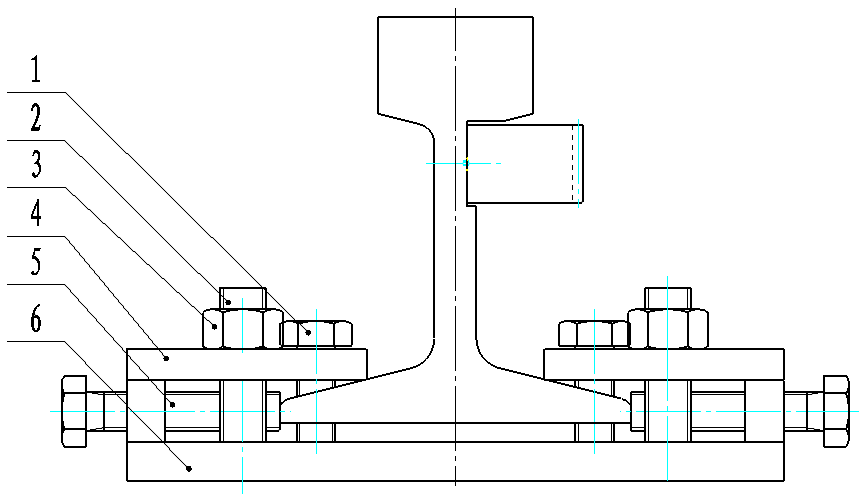 Product Consulting
Our staff will contact you within 24 hours (working days). If you need other services, please call the service hotline:
+86-13855367553