CNC 4 Rolls Plate Bending Machine
Material 45# heat treatment hardness HB220-260, surface medium frequency quenching HRC40 ~ 50
Laser cutting machine | Bending machine
Product Description
Components
Technical Parameters
Commodity name:

CNC 4 Rolls Plate Bending Machine

Commodity ID:

1056962893825531904

Material 45# heat treatment hardness HB220-260, surface medium frequency quenching HRC40 ~ 50

Hydraulic CNC automatic 4 rollers bending machine

Rolling end product:

The machine belongs to a four-roll plate reel machine, used for manufacturing pressure vessels and other industries of the pre-bending, winding, and has the function of correction, rough leveling.

The upper roll is driven by the active roller, the lower roll, the two sides roll, the reverse head frame, and the supporting roll are driven by hydraulic pressure.The vertical lifting of the lower roll and the tilting of the side roll have the synchronization accuracy of ≤ ±0.15 mm.Pre-bending through the bottom roll, clamping the end of the plate, side roll tilt to achieve plate end bending.According to the arrangement of the two side rollers, symmetrical or asymmetric bending can be carried out, so the machine can be rolled into an ideal cylinder with small theoretical residual straight edge at one time, and it does not need to use a press to prebend the end of the plate compared with the symmetrical three-roll plate winder.

The machine is equipped with centralized grease lubrication system.The control system adopts the intelligent high speed PLC industrial control machine of OMRON Company of Japan, which controls the position of the lower roll, the two sides roll, the reverse head frame and the backup roll.

The displacement sensor of the lower roll and the two sides of the roller adopts grating. The sensor action mechanism is designed reasonably, and the service life and precision monitoring are guaranteed. All bearing pairs require the use of advanced technology, the leading products of the most well-known manufacturers. The hydraulic cylinder is made with high precision and good sealing, reducing pressure relief and leakage. The sealing device is imported.

Full hydraulic four-roll bending machine is hydraulic equipment in advanced and reliable technology architecture, with sufficient

rigidity, and other key parts of the work roll for reasonable selection, precision manufacturing, high-performance, precision long

retention period for long-term continuous processing, stable and reliable operation control, simple operation, is a high-precision,

high efficiency in rolled sheet metal with unique advanced equipment.

The four roll bending machine is suitable for bending work of sheet metal. It can roll round, arc and tapered workpiece in a certain

range, and has prebending function at the end of the board. The remaining straight side is small and the working efficiency is high,

and the metal plate can be roughly leveled on the machine.

Features compared with 3 roller bending machine:

1. Full CNC control when rolling coiling block;

2. High bending precision;

3. Improve work efficiency, save prdoction time and labor--save cost;

4.Can do cones with smaller diameter.

4 roller rolling machine details photo:

TECHNICAL PARAMETERS

Model type
Pre-
bending
(mm)
Working
length
(mm)
Max.
thickness
(mm)
Upper
(mm)
Under
(mm)
Side
(mm)
Motor
power
(KW)
Length
(mm)
Height
(mm)
Width
(mm)
Weight
(kg)
W12-4x2000
4
2000
4
160
140
120
2.2
3920
860
1140
2320
W12-6x2000
6
2000
6
190
170
150
3
4020
1250
1380
3300
W12-8x2000
8
2000
8
210
190
170
7.5
4160
1320
1370
4200
W12-10x2000
10
2000
10
230
210
180
7.5
4160
1320
1370
4620
W12-13x2000
13
2000
13
270
250
210
11
4510
1430
1520
6800
W12-16x2000
16
2000
16
300
270
210
11
4420
1460
1730
7200
W12-20x2000
20
2000
20
330
300
240
11
4470
1610
1840
9120
W12-25x2000
25
2000
25
360
330
250
15
4400
2000
2120
10400
W12-30x2000
30
2000
30
390
360
300
22
4790
2180
2200
18800
W12-35x2000
35
2000
35
430
390
330
30
4300
2500
2450
24000
W12-40x2000
40
2000
40
460
420
360
37
4500
2500
2450
32000
W12-50x2000
50
2000
50
510
460
390
45
4500
3570
3000
45000
W12-55x2000
55
2000
55
540
510
440
55
6000
3500
3400
51000
Hydraulic CNC automatic 4 rollers bending machine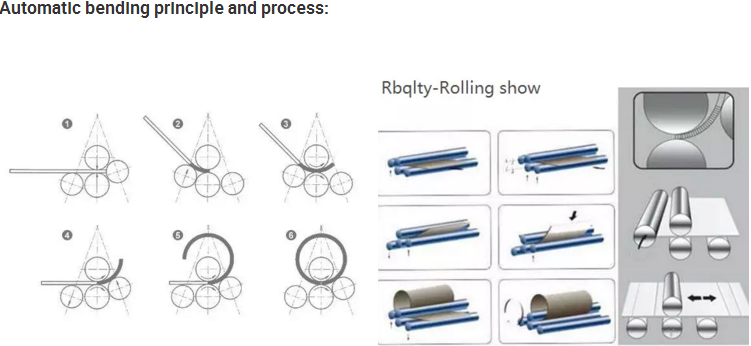 Rolling end product: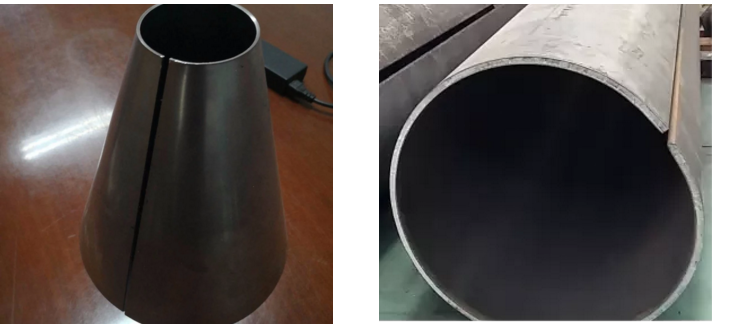 The machine belongs to a four-roll plate reel machine, used for manufacturing pressure vessels and other industries of the pre-bending, winding, and has the function of correction, rough leveling.
The upper roll is driven by the active roller, the lower roll, the two sides roll, the reverse head frame, and the supporting roll are driven by hydraulic pressure.The vertical lifting of the lower roll and the tilting of the side roll have the synchronization accuracy of ≤ ±0.15 mm.Pre-bending through the bottom roll, clamping the end of the plate, side roll tilt to achieve plate end bending.According to the arrangement of the two side rollers, symmetrical or asymmetric bending can be carried out, so the machine can be rolled into an ideal cylinder with small theoretical residual straight edge at one time, and it does not need to use a press to prebend the end of the plate compared with the symmetrical three-roll plate winder.
The machine is equipped with centralized grease lubrication system.The control system adopts the intelligent high speed PLC industrial control machine of OMRON Company of Japan, which controls the position of the lower roll, the two sides roll, the reverse head frame and the backup roll.
The displacement sensor of the lower roll and the two sides of the roller adopts grating. The sensor action mechanism is designed reasonably, and the service life and precision monitoring are guaranteed. All bearing pairs require the use of advanced technology, the leading products of the most well-known manufacturers. The hydraulic cylinder is made with high precision and good sealing, reducing pressure relief and leakage. The sealing device is imported.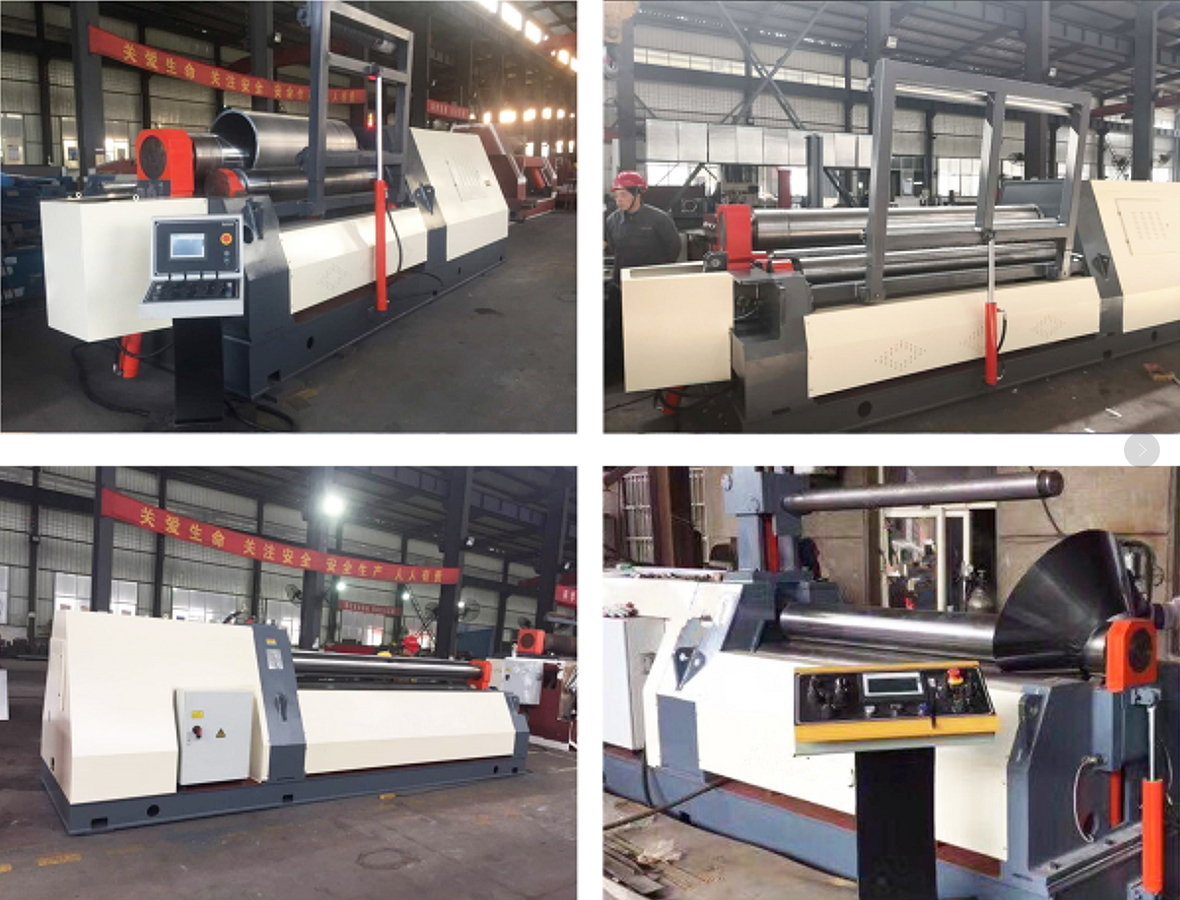 Full hydraulic four-roll bending machine is hydraulic equipment in advanced and reliable technology architecture, with sufficient
rigidity, and other key parts of the work roll for reasonable selection, precision manufacturing, high-performance, precision long
retention period for long-term continuous processing, stable and reliable operation control, simple operation, is a high-precision,
high efficiency in rolled sheet metal with unique advanced equipment.
The four roll bending machine is suitable for bending work of sheet metal. It can roll round, arc and tapered workpiece in a certain
range, and has prebending function at the end of the board. The remaining straight side is small and the working efficiency is high,
and the metal plate can be roughly leveled on the machine.
Features compared with 3 roller bending machine:
1. Full CNC control when rolling coiling block;
2. High bending precision;
3. Improve work efficiency, save prdoction time and labor--save cost;
4.Can do cones with smaller diameter.
4 roller rolling machine details photo: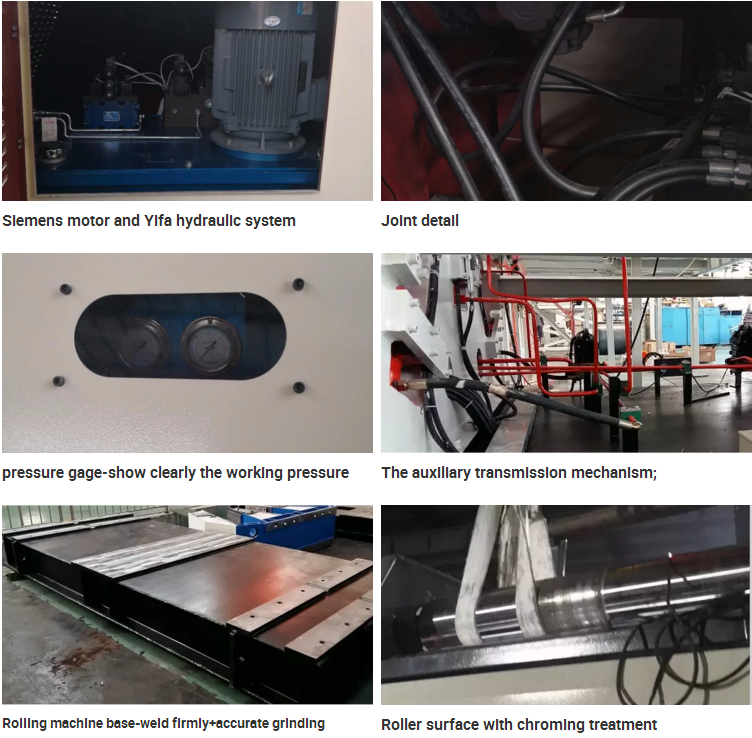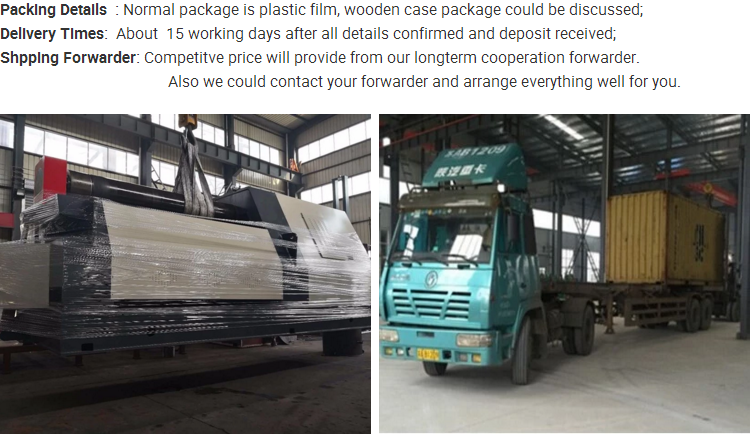 Product Consulting
Our staff will contact you within 24 hours (working days). If you need other services, please call the service hotline:
+86-13855367553