Auto Duct Line 2 HVAC Duct Forming Machine
Name :Auto duct line 2 HVAC duct forming machine</br> Brand :Rbqlty</br> Item NO :1524538265</br> Category :HVAC DUCT MACHINE</br> Model Type :SDJL-II</br> Price :CONSULT
Laser cutting machine | Bending machine
Product Description
Components
Technical Parameters
Commodity name:

Auto Duct Line 2 HVAC Duct Forming Machine

Commodity ID:

1056962536252727296

Name :Auto duct line 2 HVAC duct forming machine</br> Brand :Rbqlty</br> Item NO :1524538265</br> Category :HVAC DUCT MACHINE</br> Model Type :SDJL-II</br> Price :CONSULT

Auto duct line 2

FUNCTION

Duct production line 2 can drive blanking for duct and TDF flange forming machine at the same time. Combined with TDF flange forming machine, rolling reel machine, crimping machine and relevant corner code, duct production line 2 can produce high-quality proeducts.

PERFORMANCE FEATURES

1. Alumimium alloy suspension arm makes the machine easy to operate;

2. The build-in control cabinet reduces wiring as a whole structure and makes it easy to move;

3. The imported configuaration is vert stable and comfortable to use.

Main Import Confuguration

1. Germany Siemens CNC system+Schneider electrical system;

2. Beijing Huade or hydraulic system from Tianwan;

3. Janpan Omron encoder.

Model
SDL-II
1.Electric feeding rack 1 set 2 coil cradles(2620*1850*1450mm)
2.Leveling ,beading equipment 1 set
3.Hydraulic fixed angle notching machine (4 sets molds)
4.Hydraulic plate shearing device
5.A CNC controller, software
Plate Thickness Range (mm)
0.5-1.2
Max-width(standard) (mm)
1300
1600
Max-working Speed (m/min)
16
Coiler Max-weight (kg)
6000*2
Dimension(mm)
4800
4800
2160
2460
1450
1450
Weight (kg)
3400
4400
Auto duct line 2
FUNCTION
Duct production line 2 can drive blanking for duct and TDF flange forming machine at the same time. Combined with TDF flange forming machine, rolling reel machine, crimping machine and relevant corner code, duct production line 2 can produce high-quality proeducts.
PERFORMANCE FEATURES
1. Alumimium alloy suspension arm makes the machine easy to operate;
2. The build-in control cabinet reduces wiring as a whole structure and makes it easy to move;
3. The imported configuaration is vert stable and comfortable to use.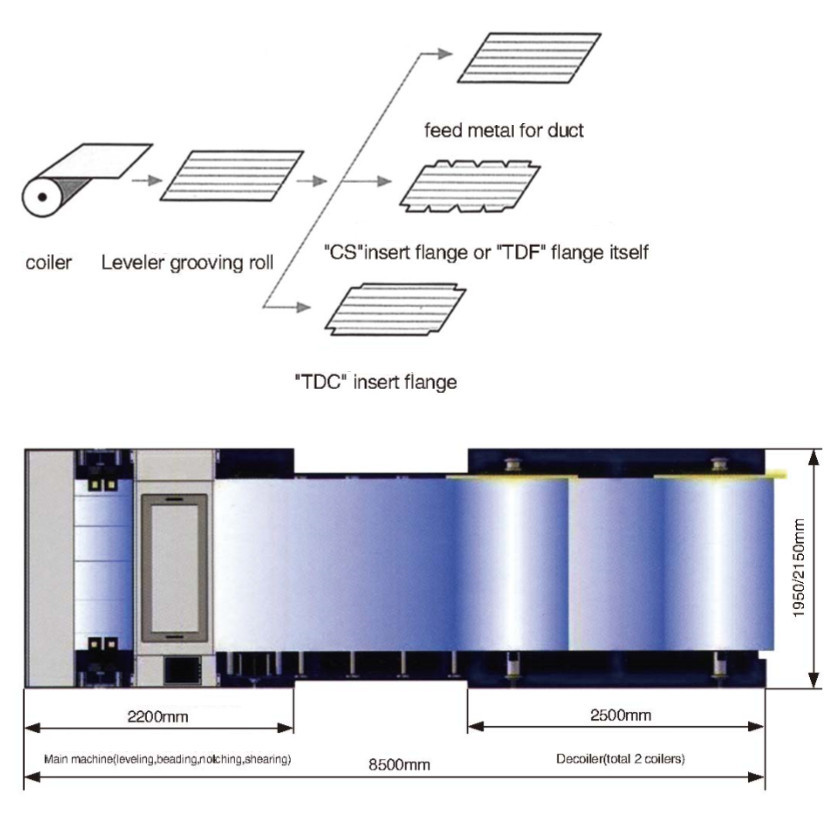 Product Consulting
Our staff will contact you within 24 hours (working days). If you need other services, please call the service hotline:
+86-13855367553