4+1 Axis DA52S CNC Hydraulic Press Brake
Name : 4+1 Axis DA52S CNC Hydraulic Press Brake </br> Brand :Rbqlty</br> Category :CNC PRESS BRAKE MACHINE</br> Model Type :WE67K</br> Price :CONSULT
Laser cutting machine | Bending machine
Product Description
Components
Technical Parameters
Commodity name:

4+1 Axis DA52S CNC Hydraulic Press Brake

Commodity ID:

1056960178810609664

Name : 4+1 Axis DA52S CNC Hydraulic Press Brake </br> Brand :Rbqlty</br> Category :CNC PRESS BRAKE MACHINE</br> Model Type :WE67K</br> Price :CONSULT

WE67K SERIES ELECTOR-HYDRAULIC SERVO DUAL SYNCHROUS CNC BENDING MACHINE

1.holland DELEM DA52S CNC syatem

2.germany rexroth has the electro-hydraulic servo driven pump control system

3.synchronous position on both sides with RSF grating detection

4.back gauge with high performance servo motor and ball screw

5.the WILA mechanical cnc system control under the table the deflection compensation device

6.with a left and right protective door and rear fender

7.include standard front support with mobile linear guide track

Holland CNC systems:

DA52S X Y1 Y2 (R V)

DA53T X Y1 Y2 (R V) + Touch Screen

DA58T X Y1 Y2 (R V) + Touch Screen + 2D programming

DA66T X Y1 Y2 (R1 R2 Z1 Z2 V) + Touch Screen + 3D programming

DA52S

Main Functions

1. Alphanumeric product naming.

2. Millimetres/Inches, KN/Ton and languages selection.

3. Number of steps up to 25. Step repeat up to 99 (maximum).

4. Programmable tooling, products and material properties.

5. Computed functions include tooling safety zones, press force, crowning adjustment, speed-change point and etc. (Differ from various axes.)

6. Store tooling & workpiece data via USB interface.

7. There are two modes: angle-input mode, depthinput mode.

8. Diagnostic program.

9. Both sides angles can be adjusted independently. (for 4 axes and above)

Holland CNC systems:

DA52S X Y1 Y2 (R V)

DA53T X Y1 Y2 (R V) + Touch Screen

DA58T X Y1 Y2 (R V) + Touch Screen + 2D programming

DA66T X Y1 Y2 (X1 X2 R1 R2 Z1 Z2 V) + Touch Screen + 3D programming

Itay CNC systems:

ESA 530 X Y1 Y2 (R V) + Touch Screen + 2D programming

ESA 630 X Y1 Y2 (X1 X2 R1 R2 Z1 Z2 V) + Touch Screen + 3D programming

Switzerland CNC system:

Cyb Touch 8 PS X Y1 Y2 (R V) + Touch Screen

Cyb Touch 12 PS X Y1 Y2 (X1 X2 R1 R2 Z1 Z2 V) + Touch Screen + 3D programming

Mo'l'd Clamp

firm fixation

Germany Rexroth Valve

Pressure control with high precision

Siemens motor

for hydraulic system

American sunny pump

International brand

Back gauge SERVO motor

Famous China Brand with long durability

Grating ruler

Italy Givi

Ball screw and linear guide

Improve bending accuracy

Germany JS tubing connector

Ensure no oil leakage
WE67K SERIES ELECTOR-HYDRAULIC SERVO DUAL SYNCHROUS CNC BENDING MACHINE
1.holland DELEM DA52S CNC syatem
2.germany rexroth has the electro-hydraulic servo driven pump control system
3.synchronous position on both sides with RSF grating detection
4.back gauge with high performance servo motor and ball screw
5.the WILA mechanical cnc system control under the table the deflection compensation device
6.with a left and right protective door and rear fender
7.include standard front support with mobile linear guide track
Holland CNC systems:
DA52S X Y1 Y2 (R V)
DA53T X Y1 Y2 (R V) + Touch Screen
DA58T X Y1 Y2 (R V) + Touch Screen + 2D programming
DA66T X Y1 Y2 (R1 R2 Z1 Z2 V) + Touch Screen + 3D programming
DA52S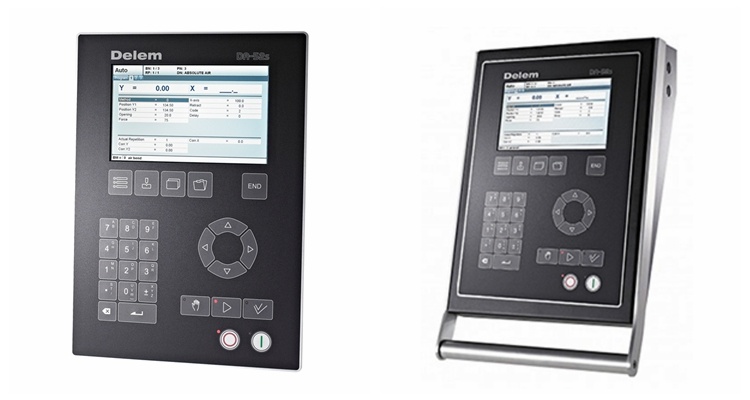 Main Functions
1. Alphanumeric product naming.
2. Millimetres/Inches, KN/Ton and languages selection.
3. Number of steps up to 25. Step repeat up to 99 (maximum).
4. Programmable tooling, products and material properties.
5. Computed functions include tooling safety zones, press force, crowning adjustment, speed-change point and etc. (Differ from various axes.)
6. Store tooling & workpiece data via USB interface.
7. There are two modes: angle-input mode, depthinput mode.
8. Diagnostic program.
9. Both sides angles can be adjusted independently. (for 4 axes and above)

Product Consulting
Our staff will contact you within 24 hours (working days). If you need other services, please call the service hotline:
+86-13855367553