3 Cylinder Door Frame E21 Press Brake 160 Ton 4000
Name : 3 Cylinder Door Frame E21 Press Brake 160T 4000 </br> Brand :Rbqlty</br> Category :PRESS BRAKE MACHINE</br> Model Type :WC67K</br> Price: CONSULT
Laser cutting machine | Bending machine
Product Description
Components
Technical Parameters
Commodity name:

3 Cylinder Door Frame E21 Press Brake 160 Ton 4000

Commodity ID:

1056960494511677440

Name : 3 Cylinder Door Frame E21 Press Brake 160T 4000 </br> Brand :Rbqlty</br> Category :PRESS BRAKE MACHINE</br> Model Type :WC67K</br> Price: CONSULT

160 ton 4000 three cylinder door frame press brake

Main Features:

1. Totally European design, streamlined looking, Monoblock,Welded steel frame rigid to deflection moment and high tensile with ST44 A1 material.

2. MTR PRESS BRAKE is Equipped with the Estun user-friendly user interface,the E21 provides all main press brake functionality.

3. Automatic tonnage and stroke adjustment for bending angles.Perfect bending results with easy angle input and operation of machine.

4. All tubes are connected by tube insertings to avoid oil lost and burst by welding tubes.

5. Ball screw and line guide was designed to improve precision.

6. E-Z fast wedge clamping was designed to change tools quickly.

7. Safe fence and the electric interlocker have been designed for the machine to ensure the operation safety.

Estun E21s NC Press Brake Control system:

1. Monochrome LCD Box Panel.

2. Integral factor programmable freely

3. Automatic positioning control

4. Spindle allowance offset

5. Internal time relay

6. Stock counter

7. Backgauge position display, resolution in 0.01mm

The bending results You can bend longer and deeper parts with standard AC/MB7-Bend Series.

Standard Equipment:

1.System Intermediate Upper clamps with Anti Wedges

2.Plate Support Arms

3. Powered Depth Axis

4. Back gauge

5. Light guards

6. Top and Bottom Tooling

7. Estun E21 NC control

8. Germany Bosch-Rexroth Hydraulic

9. Schneider Electrics

10. Hydraulic and Electrical overload protection

11. Squaring Arm and Front Support Arms

12. Delta inverter with ball screw and polished rod with 0,05 mm accuracy.

13. Side guard is standard meeting CE regulations.

Model

Nominal

Pressure

Worktable

length

Distance between

Housings

Throat

Depth

Ram

stroke

Strokes

Number

Open

height

Main

motor

Overall

Dimensions

kN
mm
mm
mm
mm
times/min
mm
kW
L*W*H mm
WC67Y/K-30/1600
300
1600
1280
200
80
16
190
3
1700*900*1650
WC67Y/K-30/2000
300
2000
1280
200
80
18
190
3
1700*900*1650
WC67Y/K-40/2500
400
2500
1900
280
100
20
320
5.5
2600*1100*1900
WC67Y/K-63/2500
630
2500
2050
300
100
12
380
5.5
2605*1725*2355
WC67Y/K-63/3200
630
3200
2670
250
100
10
380
5.5
3300*1725*2355
WC67Y/K-80/2500
800
2500
2050
250
140
10
395
7.5
2605*1725*2355
WC67Y/K-80/3200
800
3200
2660
250
140
10
395
7.5
3300*1725*2405
WC67Y/K-100/2500
1000
2500
2050
320
140
8
395
7.5
2600*1800*2540
WC67Y/K-100/3200
1000
3200
2660
320
140
8
395
7.5
3290*1740*2400
WC67Y/K-100/4000
1000
4000
3060
320
140
8
395
7.5
4090*1740*2500
WC67Y/K-100/5000
1000
5000
3960
320
140
8
395
7.5
5100*1740*2800
WC67Y/K-125/3200
1250
3200
2510
320
140
8
395
7.5
3450*1740*2450
WC67Y/K-125/4000
1250
4000
3160
320
140
8
395
7.5
4090*1740*2450
WC67Y/K-160/3200
1600
3200
2540
330
200
6
457
11
3280*1930*2800
WC67Y/K-160/4000
1600
4000
3140
330
200
6
457
11
4080*1930*2800
WC67Y/K-160/4500
1600
4500
3300
330
200
6
457
11
4580*1930*2800
WC67Y/K-200/4000
2000
4000
3140
330
200
3
457
11
4080*1930*2800
WC67Y/K-250/5000
2500
5000
3900
400
200
5
560
20
5550*1900*3100
WC67Y/K-300/3200
3000
3200
2500
400
250
3
630
19
3750*2200*3100
WC67Y/K-300/4000
3000
4000
3070
400
250
3
630
23
4550*2200*3300
WC67Y/K-300/5000
3000
5000
3900
400
250
3
630
26
5550*2200*3400
WC67Y/K-300/6000
3000
6000
4900
400
250
3
630
30
6550*2200*3500
WC67Y/K-400/4000
4000
4000
3000
400
300
2.5
770
26
4550*2600*3500
WC67Y/K-400/5000
4000
5000
3900
400
300
2.5
770
30
5550*2600*3700
WC67Y/K-400/6000
4000
6000
4900
400
300
2.5
770
36
6550*2600*3800
WC67Y/K-500/4000
5000
4000
3000
450
350
2.5
860
37
4550*2800*3700
WC67Y/K-500/5000
5000
5000
3900
450
350
2.5
860
46
5550*2800*3800
WC67Y/K-500/6000
5000
6000
4900
450
350
2.5
860
55
6500*2800*3800
WC67Y/K-600/6000
6000
6000
4900
450
350
2.5
860
60
6550*3000*4200
160 ton 4000 three cylinder door frame press brake
Main Features:
1. Totally European design, streamlined looking, Monoblock,Welded steel frame rigid to deflection moment and high tensile with ST44 A1 material.
2. MTR PRESS BRAKE is Equipped with the Estun user-friendly user interface,the E21 provides all main press brake functionality.
3. Automatic tonnage and stroke adjustment for bending angles.Perfect bending results with easy angle input and operation of machine.
4. All tubes are connected by tube insertings to avoid oil lost and burst by welding tubes.
5. Ball screw and line guide was designed to improve precision.
6. E-Z fast wedge clamping was designed to change tools quickly.
7. Safe fence and the electric interlocker have been designed for the machine to ensure the operation safety.
Estun E21s NC Press Brake Control system:
1. Monochrome LCD Box Panel.
2. Integral factor programmable freely
3. Automatic positioning control
4. Spindle allowance offset
5. Internal time relay
6. Stock counter
7. Backgauge position display, resolution in 0.01mm
The bending results You can bend longer and deeper parts with standard AC/MB7-Bend Series.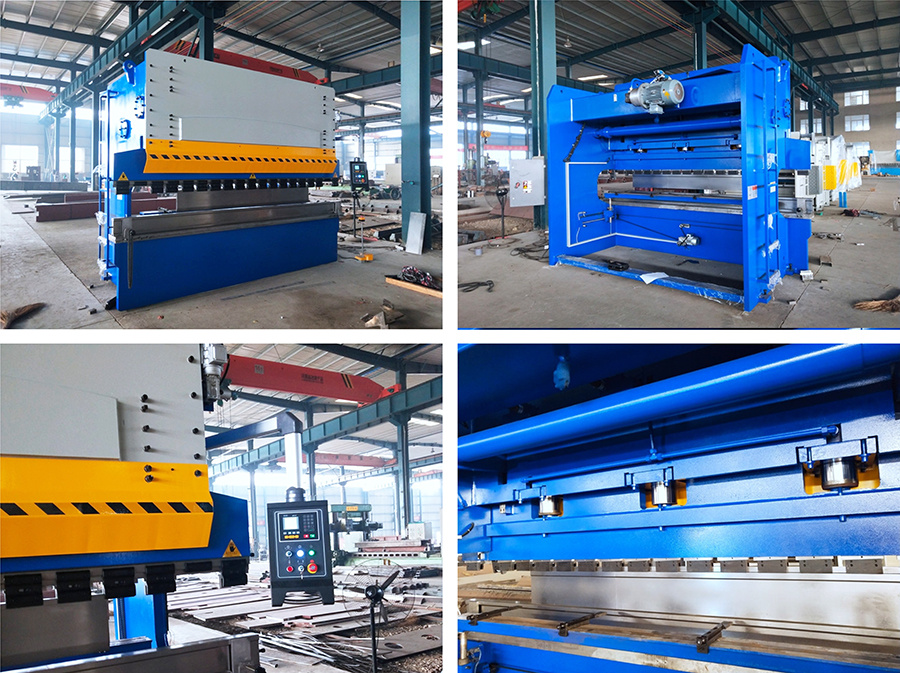 Product Consulting
Our staff will contact you within 24 hours (working days). If you need other services, please call the service hotline:
+86-13855367553