The uses of the Ironworker machine
---
The combined punching and shearing machine has a wide range of uses

What are the major uses of the combined punching and shearing machine?
The combined punching and shearing machine is a machine tool that integrates various functions such as metal shearing, punching, plate shearing and bending. The combined punching and shearing machine has the advantages of simple operation, low energy consumption and low maintenance cost. It is a modern manufacturing Industry (such as: metallurgy, bridges, communications, electric power, military and other industries) metal processing equipment of choice.
There are currently two types of combined punching and shearing machines: double linkage combined punching and shearing machine and ordinary combined punching and shearing machine:
Double linkage combined punching and shearing machine: multi-station working at the same time, intelligent temperature-controlled cooling system, automatic pressing and cutting;
Common type combined punching and shearing machine: single-station work, no cooling system, manual pressing and shearing;
The combined punching and shearing machine is widely used in:
1. Steel structure processing
2. Elevator car and parts processing
3. Trailer---spare tire parts, trailer hinges, hooks, inserts, tile panels
4. Construction machinery industry---processing on belt conveyor and mixing station
5. Agriculture and animal husbandry machinery industry---threshing frame body, trailer body parts processing
6. Food industry machinery - slaughtering equipment frame and parts processing
7. High and low voltage iron tower parts processing
8. Wind power equipment --- parts processing on stairs and pedals on wind power towers
9. Machining --- processing of building embedded parts/conveyor brackets and other components for connection
10. Grain machinery---grain and oil equipment, starch equipment bracket, shell, small parts processing
11. Processing of railway wagons/automobiles and crane parts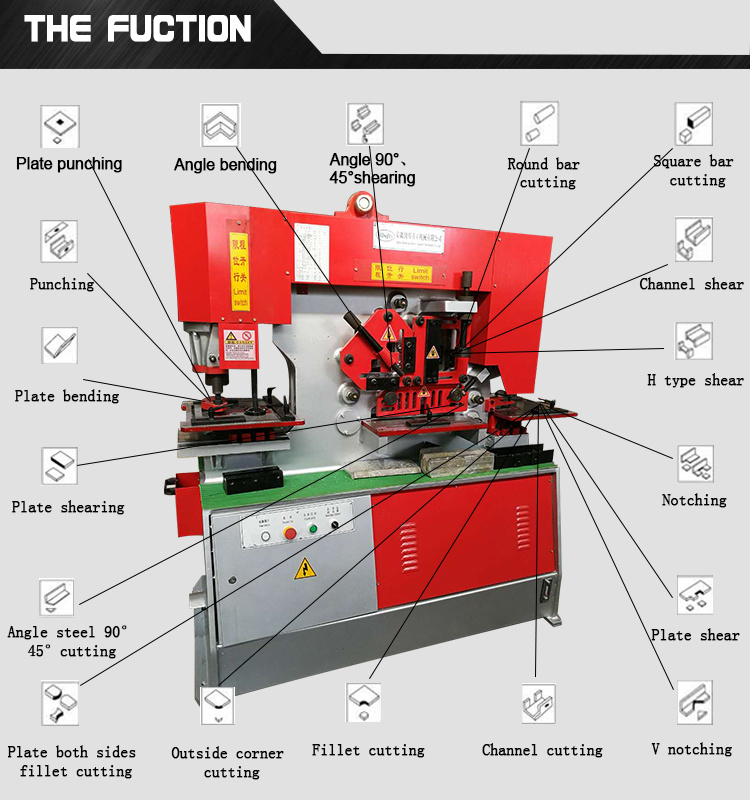 Product configuration:
1.Double hydraulic workstations, can work independently, there are five workstations in total, the punching workstation is equipped with a large worktable, can be equipped with composite punch accessories, shearing and chamfering workstations, equipped with a heavy-duty worktable, punching The standard throat depth of the station is 305, and the combined punching and shearing machine can also be equipped with an extended throat depth of 625, which can complete various processing: punching large holes, pipe cutting, sheet bending, punching, and unscrewing ejector, which can be quickly replaced The die set, the universal lower die clamp, the cross-steel cutter that is not easy to wear, the stroke of the punching and shearing station is adjustable, and various rectangular and V-shaped openings can be processed in the cutting and handing station, station protection device, hydraulic overload protection , central pressure lubrication.
2. The punching capacity ranges from 40 tons to 175 tons, and is equipped with five workstations and dual hydraulic workstations as standard. Can work independently at the same time. The machine does not need any level adjustment, it can be used after it is put in place. Optional CNC control system to increase automatic punching and shearing efficiency.
3. The machine is equipped with punching station, channel steel and angle steel shearing station, thick plate shearing station, round steel and square steel shearing station, and angle cutting station. Optional accessories such as punching large holes, sheet bending, channel steel punching, shutters and pipe corner cutting.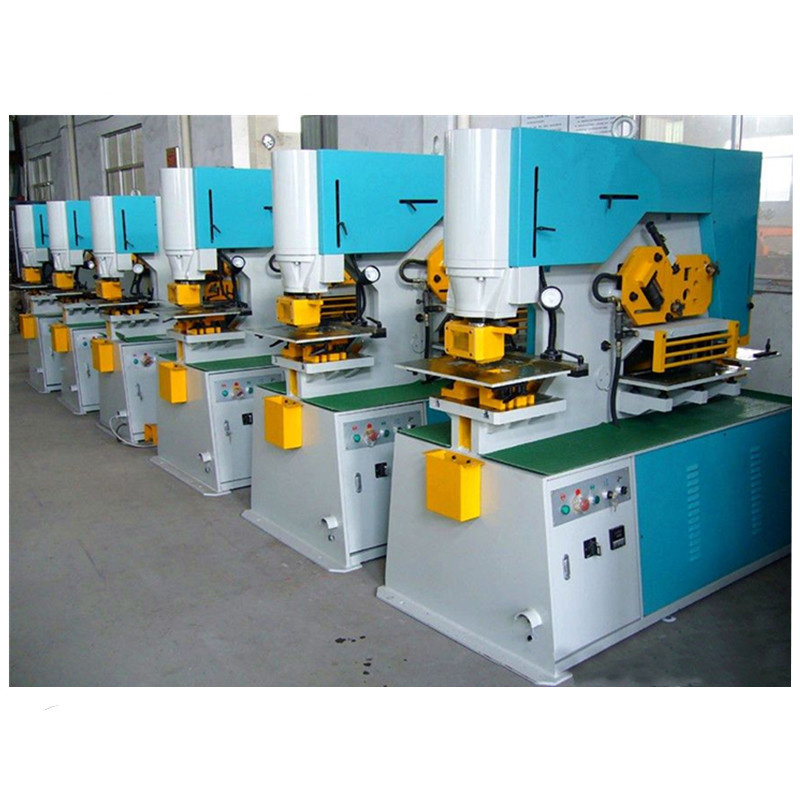 Rbqlty strive to create high-quality machines, high-quality services, so that the machines and services are recognized globally. We have a professional sales team to ensure the correct and rapid recovery of information.