Duct equipment introduction
---
manufacturing HVAC duct contractors

HVAC Stands for Heating Ventilation and Air conditioning. For manufacturing HVAC duct contractors do an amazing variety of work and require many different machinery, tools and pieces of equipment. When creating ductwork for a building, for example, they need specific things to work with sheet metal and even more precise tools to create ducts. We can make two types of Duct Spiral duct and Square duct.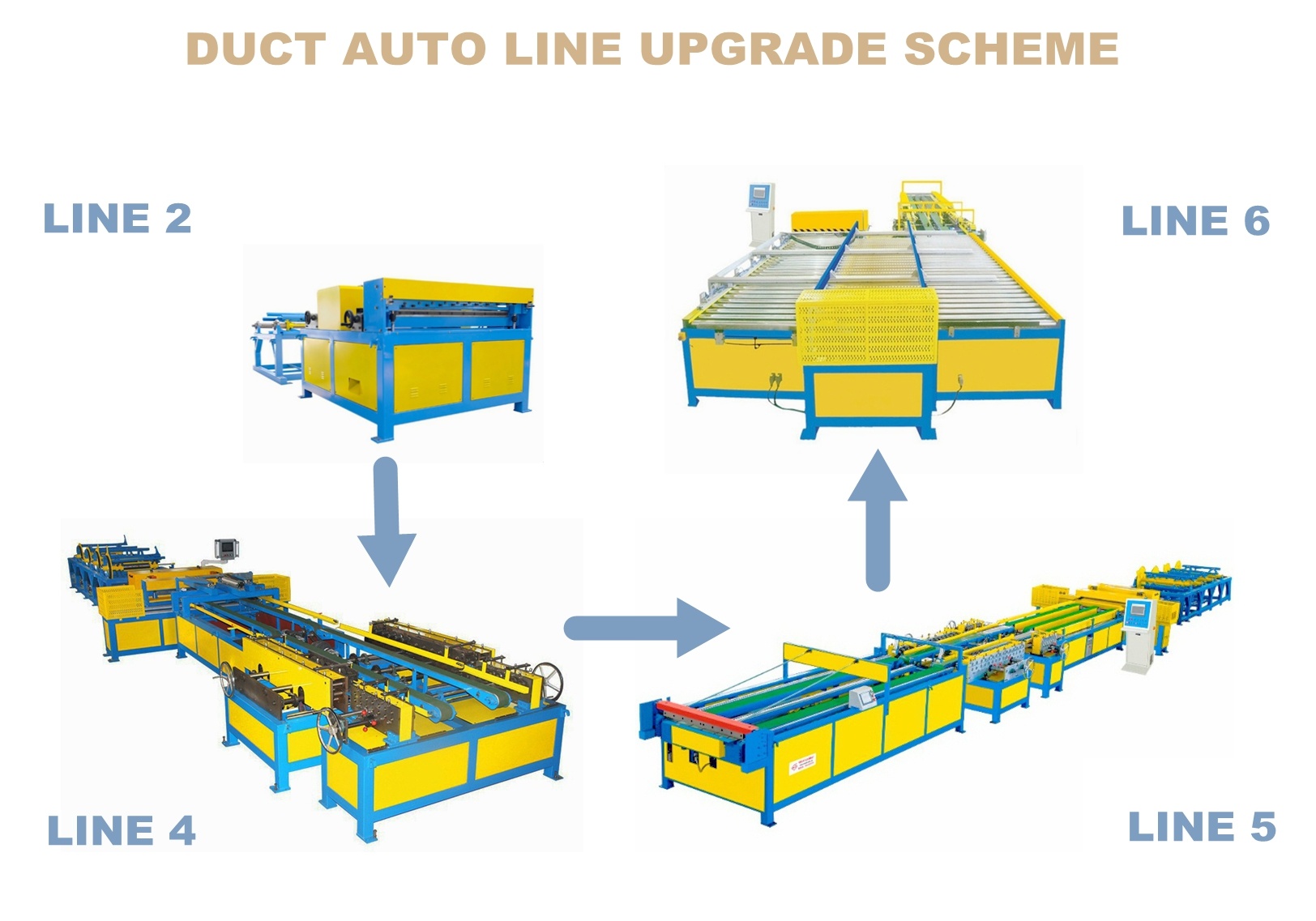 Duct manufacture auto line can manufacture a material roller to a completed duct product independently and uninterrupted. No additional operators and operation are required. Based on different functions, we have duct production line series 1~8. The main functions are: 1, decoiler-feeding; 2, pressing and straightening; 3, punching and notching; 4, shearing; 5, coil conveying; 6, lock forming; 7, flange forming; 8, folding.
Here are some of the machines required to manufactures HVAC duct-
Duct Manufacturing Automated Lines – These systems are all-in-one manufacturing lines to create ductwork automatically. There are many variations of complexity for these machine lines to create different types of ductwork at different speeds.

A) Starting duct line- Semi Automatic Duct line Pro-Ductomatic

The Productomatic stater duct line does all the uncoiling , fattening, beading, notching, punching and cut to length opration.

B) upgrade to Fully Automatic Duct line -Pro-Fabriduct line includes Lockformers roll formers for the female seams, TDC duplex roll former for TDC connection and the IOWA precision Wrap brake. The Lockformer MKXV Roll former can be tooled with a choice of two seams 1. large Pitsburgh 2. small Pitsburge or snap lock

Duct Dedicated Plasma Cutting Machine – LockFormer Vulcan Plasma cutting machines are used to cut out specific blueprints from sheet metal. A duct dedicated plasma cutter is built specifically for the special cuts needed to form complicated portions of ductwork.
Spiral Duct Machine – Spiral ducts are the newest type of duct to enter the market. These machines are used to form strips of metal into spiral ducts. ISM Machinery has developed Spiral Tubeforming / Ducting Equipment using proven technologies combined with the latest engineered state-of-the-art electronics to deliver the best Spiral Tubefornier in the industry.

What are the advantages of the common plate flange duct production line

The common plate flange air duct production line has a high degree of mechanical automation, which greatly improves the production efficiency and the production accuracy of the air duct, and reduces the project cost. The common-plate flanged air pipe forms its own flange, which reduces the weight of the air pipe and reduces material loss. The common plate flange air pipe has good sealing performance, which significantly reduces the air leakage, saves energy and reduces the operating cost of the main engine.